Wood, vinyl, and laminate floors are easy to maintain and the market presents a host of excellent products that clean floors and make them shine. Following manufacturers' recommendations and instructions is imperative when applying these products. Follow the following highlighted steps to mop and clean your wood, vinyl, and laminate floors to perfection.
Check Also: How To Clean The Air In My RV?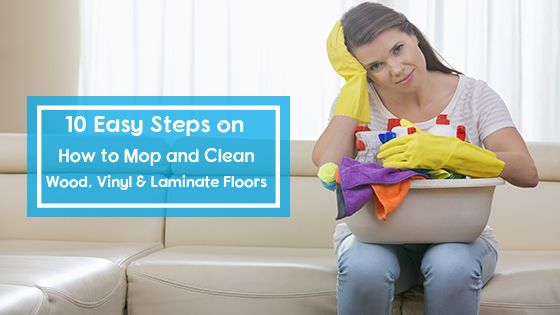 Steps to Mop and Clean Your Wood, Vinyl and Laminate Floors
1. Use a Doormat
The first thing to do when cleaning and mopping wood, vinyl, and laminate floors is to use something that prevents them from getting dirty. For that reason, a doormat would help prevent these floors from two greatest foes, which are chemicals and dirt. Embedded dirt takes extra time brushing.
Whereas chemicals are not easily noticeable, chemicals arising from such things as asphalt stick to shoes then enter your floors. In return, it makes these floors to turn yellow in color. So, make sure to use a doormat in the first place.
Check Out Also Our review for: How to Clean (Interior, Polished, Painted etc) Concrete Floors
2. Eliminate Fine Dirt & Debris
Removal of loose dirt and debris that accumulate on flooring will need you to use a lightweight broom or vacuum. You should be doing this throughout the day to avoid gradual buildup of these flooring enemies. The number of times your flooring needs sweeping will depend on the amount of traffic it endures in a day.
Your wood, vinyl, and laminate floors will maintain their natural beauty and look if you take adequate time sweeping off the debris which accumulates on them. You will need a damp mop, water, and a dish soap to carry out this chore.  However, make sure that the  mop doesn't have wires or aggressively stiff bristles as they scratch your floor in the end. A little water, mop, and soap will remove tracked-in dirt and maintain the beauty of your floors.
Check Also: Cleaning Checklist for Bedroom and Living Room
3. Sweep, Vacuum, or Dust Mop Often
Pet paws and shoes bring in dust and dirt from the outside. Any debris that falls onto the floors may have the potential to scratch the floor's surface or cause other damages that may demand refinishing or replacement.
Keep dust mops or brooms handy to remind you when it is necessary to do the sweeping. You ought to sweep the floors at least twice a week, or even more depending on traffic. Stash one broom or dust mop in the linen closet, another one in the pantry and so forth.
You can also vacuum a laminate floor as the vacuum suction will decrease the risk of debris scratching the floor while being swept. See our review of the best vacuums for laminate floors.
4. Use Low-Impact Cleansing Techniques​
It is perfectly understandable that sometimes there is the temptation to use heavy-duty cleaners to blast the dirt away. Resist this temptation. Instead, learn how to use the mildest method possible to clean vinyl floors. Wipe up the spills immediately once they occur.
You may want to use a mop soaked in warm water to clean the dirt that is otherwise difficult to access using a vacuum or broom. Here is a warning: never attempt to use hot water as this can damage your floors. If this fails, use soap designed exclusively for your specific flooring.
5. Rinse Properly to Remove All Soap​
While soap gets your floors sparkling clean, its scum may leave a film that gathers up dirt. Only use water with a dampened mop, unless your floors call for serious cleaning. Use two mops when it is time to wash your wood, vinyl, and laminate floors. The first mop is for washing and the second is for rinsing.
6. Do Not Drench Your Vinyl​
If you use an overly wet mop, water from it will find its way into the seams, cracks, and edges. Once it gets there, it easily damages the glue bond which holds down your vinyl floors. It causes its corners to curl or become loose.
7. Preserve the Sheen
"No wax" literally implies "Don't wax". Vinyl without wax comprises a transparent polyurethane coating which gives it a shiny appearance. Wax cannot stick well to the coating and leaves behind a mess that will need you to strip off. Avoid using mop-and-wax products as well.
In the event the shine of your no-wax floor gets lost, you can use a polish or sealant to restore it. Apply about two thin layers after you have thoroughly cleaned your no-wax flooring. If you follow the directions properly, you could restore the shine of your floor for at least a year with routine damp mopping.
8. Use Floor Protectors Under Furniture and Appliances​
Heavy items such as refrigerators and tables can scratch your laminate or hardwood floor. Using floor protectors under your furniture and appliances is an ideal way to reduce this risk. Heavier items may actually make indentation on vinyl floor and using wider floor protectors will mitigate the dents.
9. Remove Some Spots by Hardening 
At times there is need to eliminate spots such as chewing gum or candle wax. To handle this job, first apply ice to harden the spot. Then, scrape it gently with a plastic rubber like a credit card. Exercise caution to avoid scratching the surface. Finally, use a damp cloth to wipe it clean.
10. Keep Your Flooring Maintained Often​
Toss your vinyl plank flooring in white vinegar and a bucket of warm water if it needs a deep clean. Also, get a damp mop and mop it away. A combination of the white vinegar and the dish soap can help in cleaning a heavily soiled area. Doing so is a great way to make your vinyl plank flooring clean and lively.
It would also be helpful to note that vinyl floors don't need the use of strong, wired brushed scrubbing pads, and abrasive cleaners. You can also use a coat of floor polish to protect it from wear and tear. Read the manufacturer's instruction prior to applying any coat.
Do not use the above vinegar solution on hardwood and laminate floors as over time it will dull the sheen of the floor.
Conclusion
Wood, vinyl, and laminate floors require regular cleaning and maintenance to keep them looking good and in pristine condition. Use a schedule that revolves from light maintenance to detailed cleanup to keep the dirt and debris from destroying your surfaces. The steps highlighted above will prove handy when it comes to mopping and cleaning wood, vinyl, and laminate floors.