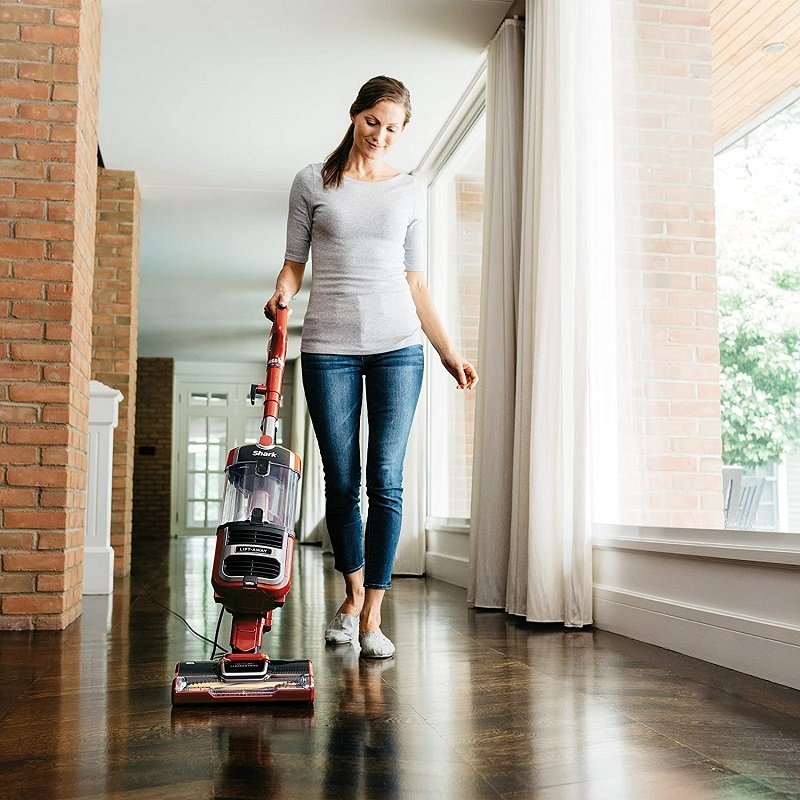 Shark is a household brand that manufactures cleaning appliances that are developed to make completing boring and time-consuming cleaning chores much easier. The company is part of SharkNinja Operating LLC and is considered a market leader due to its high-quality appliances and product reliability.
Mark Rosenzweig is the founder of the company that started out in 1995 in Montreal, Canada. SharkNinja might sound like a new brand to some, that is because the company was once called Euro-Pro. Euro-Pro was rebranded and renamed in 2015.
The company has branched out and grown from just a small Vacuum business and now sells kitchen appliances, blenders, and one-pot cookers. SharkNinja also sells drip coffee makers that are promoted by a well-known actress called Sophia Vergara.
Comparison Table
PRODUCT
FEATURES
LATEST PRICE
1. Shark Navigator Lift-Away Upright Vacuum ZU561


Easy to use
Lightweight
Compact

Check Price
2. Shark Navigator Zero-M Upright Vacuum ZU62


Moves seamlessly
Lightweight
Easy to empty

Check Price
3. Shark Navigator Freestyle Cordless Vacuum SV1106


Cordless
Sufficient battery life on a full charge
Easy to use

Check Price
4. Shark Navigator Carpet and Hard Floor Swivel Vacuum NV352


Powerful
Lightweight
Swivels

Check Price
Shark sell their products in stores and online, making their products readily available to most consumers. They pride themselves on developing products that are easy and convenient to use, innovative, and competitively priced.
Their main competitor is Dyson LDT. Dyson is a British company founded by Sir James Dyson in 1991, not long before Shark came about. Although the two brands are very similar, Dyson products are generally slightly more expensive and the company sells a wider range of products.
Dyson not only sells household appliances, but it also develops and manufactures bladeless fans and hair products such as heated stylers and hair dryers. The difference between Dyson and Shark vacuums is the weight and price of the product.
As we mentioned earlier, Dyson vacuums are less sought after due to their high price point, whereas Shark vacuums are reasonably priced and appealing for every budget.
Shark vacuums are lighter in weight, making them appropriate for cleaning hard to reach areas, staircases, homes, and offices. Their lightweight vacuums make cleaning faster and more enjoyable.
Check Also: 14 Best Lightweight Vacuum Cleaners
Now that we know a bit about Shark, let's take a closer look at what the company sells.
Shark Vacuums
Shark has a huge array of vacuums to choose from. Robot vacuums, corded stick vacuums, upright vacuums, and handheld vacuums can all be purchased from Shark. Within those categories, there are various models and designs to choose from. The Shark Navigator range is a range of upright vacuums made by Shark.
Mops
Forget old fashioned mops! Shark has innovative steam mops, vacuum suction, and spray mops suitable for most hard floor types.
Irons and Steamers
Shark has a great range of irons and steamers that leave your clothes looking freshly dry-cleaned and crisp. Shark irons and steamers are advertised to have rapid wrinkle removal abilities, powerful steam performance and are innovated with Smooth Glide technology.
Self-Cleaning Brushroll
Self-Cleaning Brushroll isn't an item, it is a technology. People with pets that struggle to maintain cleanliness due to appliances not being strong enough or capable of keeping up with vast amounts of hair pickup should look for this technology in their Shark vacuums. Fortunately, Shark has both handheld and robot vacuums available on the market with self-cleaning Brushroll technology.
Duo-Clean Technology
Duo-Clean is a technology developed for cleaning hard and carpet floors all with the same appliance. There is no need to change any parts when moving from hard floor to carpet making the task much more manageable. Duo-Clean appliances can pick up small and large particles, as well as stuck on dust and grime.
Spare Parts and Accessories
One of the most attractive things to customers about Shark is that they sell spare parts. Having spare parts readily available means that vacuums and other appliances that malfunction can be easily repaired instead of replaced.
In this article, we are going to learn more about the Shark Navigator vacuum range. We have reviewed four vacuums from the Navigator range and pick them apart to discover what is great and not so great about each. We hope the following information will help you choose the best Shark Navigator vacuum for your needs.
Our Best Shark Navigator Vacuum Reviews and Comparisons
1. Shark Navigator Lift-Away Upright Vacuum ZU561
More photo & price on
Amazon.com
Product Highlights
This vacuum cleaner has been designed with anti-hair wrap technology, swivel wheel, and HEPA filter.
Features
Zero M self-cleaning brushroll
Upright and detachable
Anti-allergen complete seal technology
Swivel steering
25-30 ft cord length
Lightweight design
What We Like About Shark Navigator Lift-Away Upright Vacuum
This vacuum is great for seniors. It has a relatively short cord which at first seems like a negative thing, however, it also means that there is less cord to get tangled in.
You can conveniently use it on upholstery. It removes all traces of cat and dog hairs from furniture without struggling to do so. The vacuum is small and compact in comparison to other upright vacuum cleaners, making it suitable for small spaces.
There are very clear and easy to use instructions to follow, as the vacuum can't be used exactly like any other, especially if you purchase it for its pet hair lifting abilities.
Once you get used to the cleaning method appropriate for this vacuum, you will thoroughly enjoy using it.
What We Don't Like About Shark Navigator Lift-Away Upright Vacuum
Hair can get tangled up in the bristles while you vacuum. In order to correct this, you must run the vacuum on a clean part of the carpet for a few seconds. This frustrates some users because it interferes with the flow of cleaning and can make vacuuming your home take longer.
It spits out bits of dirt, especially when the bin isn't emptied in time. Bits of food and other larger debris is hard to collect and can clog the vacuum.
It feels less durable than other vacuums, maybe that is due to it being so lightweight, but nonetheless it certainly is fragile. If the vacuum isn't used with care, the handle can snap or crack.
The worst thing about this vacuum is that it doesn't fit under tight furniture. Having to move your furniture around every time you vacuum can be a real nightmare.
PROS
Lifts pet hair well
Easy to use
Lightweight
Compact
CONS
Not very flexible
Feels cheap and flimsy

2. Shark Navigator Zero-M Upright Vacuum ZU62
More photo & price on
Amazon.com
Product Highlights
The Shark Navigator ZU62 model is an upright corded vacuum with Zero-M self-cleaning brush roll.
Features
Self-cleaning brushroll
Upright corded vacuum
1150 watts
120 volts
2.8 quarts dust cap capacity
Lightweight
Powerful suction
Portable
3XL capacity for long cleaning sessions
Anti-allergen
HEPA filter
12 feet of extended reach
What We Like About Shark Navigator Zero-M Upright Vacuum
The suction can be controlled easily and can be adapted to the mess at hand. It can be used on multiple surfaces including on upholstery and other fabric household items. The dust cup is easy to empty and doesn't make a mess while doing so.
The Navigator ZU62 vacuum is really easy to maneuver, so getting into knucks and crannies isn't such a challenge. The best thing about this vacuum is that it picks up pet hair off both hard floors and carpets.
What We Don't Like About Shark Navigator Zero-M Upright Vacuum
The vacuum struggles to stay upright while you vacuum the stairs. It needs to be propped up on something while you gently vacuum. The hose also doesn't stay extended and as soon as it has been stretched, it pulls back to a fully retracted position.
It is very hard to move around on high pile carpets and may even damage them. Like a lot of Shark vacuums, the ZU62 isn't suitable for cleaning under furniture, nor does it come with accessories that would help with the job.
PROS
Great at removing pet hair
Moves seamlessly
Lightweight
Easy to empty
CONS
Hard to move on carpet
Hard to extend

3. Shark Navigator Freestyle Cordless Vacuum SV1106
More photo & price on
Amazon.com
Product Highlights
This is an upright, cordless stick vacuum cleaner with an XL dust cap and a 2-speed brush roll.
Features
0.64-quart dust cap capacity
Powerful pet hair pick-up
Cordless and convenient
2-speed settings
Swivel steering
For hard floors and carpets
Easy to empty
What We Like About Shark Navigator Freestyle Cordless Vacuum
The Freestyle SV1106 vacuum has been designed with the user in mind that is for sure. The vacuum isn't particularly noisy and can be used while people are chatting in the room without overly disturbing them. Some vacuum cleaners start to smell when they are used for more than 5 or 10 minutes at a time, this one certainly isn't one of them.
The battery doesn't take hours and hours to recharge and if the vacuum is looked after properly, its battery life won't deteriorate over time. You don't need to be constantly bent over while you use it which is great for anyone with back issues.
What We Don't Like About Shark Navigator Freestyle Cordless Vacuum
Unfortunately, although the vacuum is great and is brilliant at sucking up pet hair, it is not so good at sucking up bits of food or large pieces of debris. Cheerios, small bits of paper, and rock chips, along with many other bits of dirt do not get pulled up by this vacuum cleaner.
Its lifespan is rather short as it never seems to last over a year or two, which isn't long at all considering how irregularly it is used. It only works well on low pile carpets too and gets jammed when used on high pile carpet.
PROS
Cordless
Sufficient battery life on a full charge
Easy to use
CONS
Doesn't have a long lifespan
Flimsy

4. Shark Navigator Carpet and Hard Floor Swivel Vacuum NV352
More photo & price on
Amazon.com
Product Highlights
Versatile swivel vacuum with lift-away and anti-allergy features.
Features
Anti-allergen complete seal technology
Lift-away
Wide upholstery tool
Dusting brush
Crevice tool
Brushroll shutoff
Lightweight
Dual-action hard floor vacuum
What We Like About Shark Navigator Carpet and Hard Floor Swivel Vacuum NV352
The NV352 vacuum is very powerful and easy to maneuver. It pulls through very plush carpets with minimum effort and picks up dirt well.
The vacuum picks up even the finest of dust and debris, leaving the room feeling fresh and clean. It is powerful enough for you not to have to go over the same area more than once which is a bonus.
What We Don't Like About Shark Navigator Carpet and Hard Floor Swivel Vacuum NV352
It isn't as powerful as other similar vacuum cleaners from leading brands. Assembling the vacuum isn't as easy as you would have expected either.
PROS
Powerful
Lightweight
Great on plush carpet and hard floors
Swivels
CONS
Awkward assembly
Mediocre appearance

Final Verdict
Out of the 4 Shark Navigator vacuum cleaners above we like the Shark Navigator Lift-Away Upright Vacuum ZU561 the most. In our opinion, it is the most versatile in the range. Which one did you like the sound of?
Buyers Guide
Just like all electrical cleaning appliances, it can be difficult to know what features are important when shopping for a vacuum cleaner. We have put together a buyers guide that will help you understand what features are important to you.
Tools and Accessories
These days, new vacuum cleaner models come with a compartment filled with handy tools such as a brush or pet tools. Vacuum tools and accessories will make cleaning your carpet or hard floor easier and save you time rummaging around the house for the appropriate cleaning tool.
If you are a busy working person, or someone that wants to clean in the fastest time possible, vacuum cleaners that come with tools are a must! Big-name brands have plenty of vacuum designs that come with tools, so be sure to look around!
Suction Power
Don't assume that a vacuum cleaner with very high suction power is the best for you. High pile carpets are very hard to clean if the suction power is too high.
Hard floors can be tough to vacuum, therefore need a high suction vacuum to pick up dirt and debris. Households with a mixture of high pile carpets, low pile carpets, and hard floors should opt for a vacuum cleaner with adjustable suction settings.
Does it Pick Up Hair
Pet hair is the bane of any pet owner's life. When there is more than one hair shedding pet in the house, managing cleanliness can be challenging.
Vacuum cleaners get clogged with hair over time in parts of the vacuum that you can't see or access without taking it apart, and slowly their efficiency deteriorates. Pet owners should keep an eye out for anti-tangle features to ensure this isn't a huddle you have to overcome in the future. See our review of the best vacuums for hair.
Maneuvering
Does the vacuum you are thinking of buying swivel or is it large and hard to move? Small spaces such as studio apartments and offices are usually cluttered, so a small swivel vacuum is easier to maneuver.
Cleaning Path
If the area you will be using the vacuum cleaner is very big, look out for a vacuum with a large cleaning path. This will shorten the time it takes to complete the task, after all, you want to work smart, not hard right?
Corded or Cordless
This is a personal preference and doesn't make a difference when it comes down to vacuum cleaning abilities. Cordless vacuums wiz around furniture without getting tangles in chairs, tables, and beds… or around you. The problem with cordless vacuums is that they need to be recharged and very in battery life.
Small homes and other commercial buildings that don't take a long time to clean would benefit from a cordless vacuum. Think about how long it takes you to vacuum your house and search for a cordless vacuum that matches that battery life.
You can find corded vacuums with a 40 or 50-foot lead. Such a long extension lead is great for large floor spaces.
Battery Life
As we mentioned in the section above, battery life is important for cordless vacuums. While some people are happy with a battery life of 40 minutes, others are not.
The best way to know how long the minimum battery life of your future vacuum should be, time yourself tidying your space and search for a vacuum that has a similar battery life. A great way around battery life issues is to clean section by section. Vacuum one room, recharge and then vacuum the next.
Bin Capacity
Needless to say, small vacuum cleaners are going to have a smaller capacity than larger ones. Anything over 0.7-quart bin capacity is reasonable.
If you want a bagless vacuum, you want the bin to be easy to empty. Some bins are so messy to empty, that they fling dust about when you do it… not what you want surely!
Weight
Is the vacuum going to be used upstairs and downstairs? Are you going to be sucking up cobwebs with it?
If for any reason you are going to be lifting the vacuum off the ground a lot, you should buy a lightweight vacuum cleaner. There is nothing harder than vacuuming staircases with a heavy, bulky vacuum cleaner that is for sure!
Robotic
Robotic vacuums are all the rage, just switch them on and watch them clean! Please note that robotic vacuum cleaners do not have a strong suction power, nor do they work on all floor types.
Robotic cleaners are more for maintenance vacuuming rather than deep cleaning. Most households have a stand-up vacuum as well as a robotic vacuum.