A Deep Dive Into The Bissell Symphony Pet Steam Mop 1543A
The Bissell Symphony has evolved through a few different models. The 1132A was the first model to be released, and then after some adjustments, an upgraded version of the 1132A became the Symphony Pet Steam Mop 1543A was released.
In this article, we will reference both interchangeably. Here are the following upgrades on the 1543A: Improved suction, disposable pads, a redesigned dirt cup, a steam boost tray, and the five-way adjustable handle is no longer adjustable.
The Bissell Symphony is a product that can vacuum, steam, and mop to clean all at the same time. What you get with this product is a two-in-one vacuum and steam mop specifically designed for cleaning your pets' messes efficiently.
This vacuum has a strong cyclonic vacuum that cleans up dry dirt as well as wet or sticky areas quickly. Using blasts of steam, it destroys up to 99.9% of bacteria, creating a clean and sanitary environment without the use of chemicals and or soaps. They use Microban an anti-microbial and odor control solution to eliminate strong-smelling messes.
The Bissell Symphony 1543A comes with extra disposable and reusable mop pads, so you have an extra clean one handy at any given moment.
The water tank is easy to fill, holding 380ml, and heating the water in about 30 seconds. The dry tank technology keeps moisture from building up inside the tank. It is recommended to use distilled water in the tank in order to avoid build-up as well as any eventual blockage.
The Bissell Symphony 1543A includes an easily removable mop head and simply fitted mop pads making it quick and easy to swap your mop pads out.
The mop head includes a foot pedal that when stepped upon can help you adjust the angle of the unit to maximize maneuverability, without having to bend down or getting close to the hot mop head.
So, the Bissell Symphony is a multifunction vacuum that combines suction, steam, and mopping to create a quicker and easier cleaning routine. It will allow you to clean both wet and dry dirt in a swift action.
Unlike other steam mops, the Symphony 1543A can both vacuum pet hair and dirt while combining a steam function, cleaning your floors in only one step.
The Symphony 1543A is a wall plugin and a combined stand vacuum. The chord is 25 feet in length. It is designed to be safe and healthy around kids and pets avoiding the use of chemicals, cleaners, and naturally sanitizing the floors with steam.
Who is it for?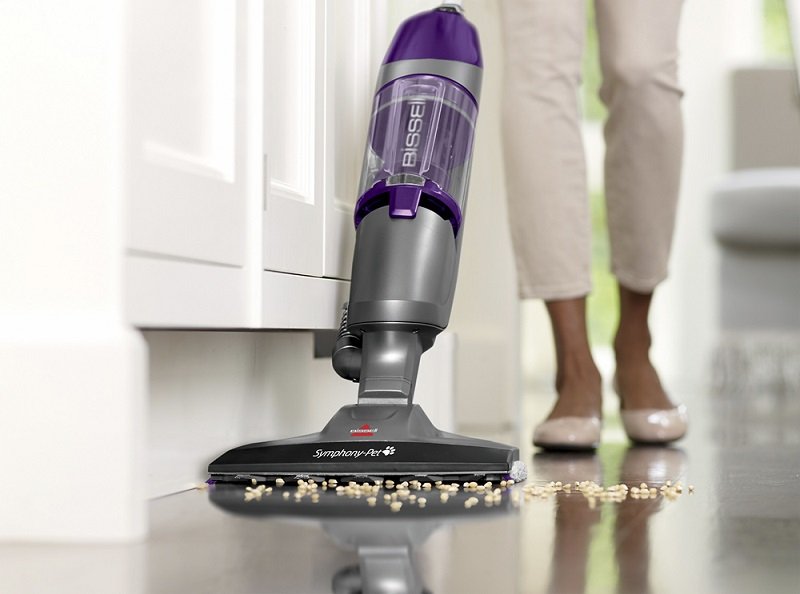 The Bissell Symphony Pet Steam Mop 1543A is designed for families with kids or people with pets or anyone who is looking for a quick way to clean their floors.
People who want to avoid using chemicals in their cleaning routine and still eliminate bacteria and germs will find this equipment useful. The steam cleaning function of this vacuum is what people love about this product, as it kills up to 99.9% of the germs existing on their floor.
This product is optimally designed for cleaning hard surface floors such as ceramic tile, vinyl, stone, linoleum, granite, marble, laminate, and hardwood.
This product is not for people who have spaces with tight corners and crevices due to its large size. It is difficult to steer into those tighter spots.
Although the Bissell Symphony Pet Steam Mop 1543A includes multiple features in this vacuum, it is not designed for cleaning unsealed wood or carpets, making this vacuum unsuitable for largely carpeted households, businesses, or venues.
The Bissell Symphony Pet Steam Mop 1543A is a simple and accessible design making it an easy and carefree cleaning accessory and it is also a reasonably priced product in comparison to other similar functioning vacuum cleaners.
What We Like About The Bissell Symphony Pet Steam Mop 1543A
We find that the Bissell Symphony Pet Steam Mop 1543A is greatly appreciated for its compatibility with pet sourced messes. It is highly effective at cleaning up animal hair and is also exceptional at scrubbing away paw prints.
It is a relatively lightweight vacuum mop cleaner making cleaning and storage a breeze. The Symphony comes with three different cleaning modes: vacuum; steam; vacuum and steam.
Additionally, the steam mode has two options: high steam and low steam. High steam mode is designed for cleaning up heavy and sticky messes. While the low steam mode is best for lighter cleaning or more delicate surface areas.
The vacuum mode can be active alongside the steam mode or alternatively, you can use each function separately. All these modes are controlled by fingertip buttons on the handle. The controls include low steam, high steam, and vacuum on/off.
When the steam function is on it can be moderately released by pulling a trigger on the underside of the handle.
The Bissell Symphony Pet Steam Mop 1543A includes both washable mop pads and disposable pads. These six pads include one washable soft pad, one washable scrubbing pad, and four disposable Swiffer Bissell Steamboost pads.
The pads attach easily to the pad tray and can easily be exchanged. The washable pads usually last several floor cleanings before needing to be washed. The disposable pads are for the kind of messes you just want to clean up and throw away.
The steam sanitation that allows you to eliminate 99.9% of germs and bacteria is an outstanding component of this machine. The steam tank heats up really fast in about 30 seconds which is another attribute for quick easy cleaning.
The steam tank allows about 15 minutes of consecutive steam cleaning. In order to achieve full sanitation, one must hold the steam mop in place while releasing steam for about 20 seconds.
The 1132A has a five-way adjustable handle versus the 1543A in which the adjustable handle has been discontinued.
What We Don't Like About The Bissell Symphony Pet Steam Mop 1543A
Although you have an option of vacuum only mode, essentially turning your unit into a stick vacuum, this unit does not do a good job at cleaning carpet or rugs.
The Bissell Symphony Pet Steam Mop 1543A's suction is not the most efficient. For example, smaller particles like cat litter are not always picked up, sometimes you will need to hover over one spot to get every last bit.
There are some complaints about using both the vacuum and steam function at the same time stating that it wets the dirt creating nasty streaks. For example, the dry stuff gets all muddy when it comes in contact with the steam and you may end up pushing dirty water around. It also makes the vacuum head itself dirty.
The Bissell Symphony Pet Steam Mop 1543A's vacuum channel is located in front of the mop pad, therefore, the mop pad cannot extend fully frontwards. Thus, making it very difficult to clean out narrow corners or even just that inch before your wall. Forcing you to get down on your hand and knees to reach those hard spots that have collected lots of dirt.
Even with the new and improved dry tank technology, there have still been reports of fluid leakage from the water tank.
Alongside all this, there are a few flaws to point out, the design of the steam mop with a vacuum in front makes it nearly impossible to get right up against the wall with your mop let alone tight corners and turns.
There have been some problems with combining the steam and vacuum settings resulting in nasty streaks and mud build-up on the floor and mop head. Even with upgraded suction the symphony's vacuum just does not seem to cut it for many people. The steam mop seems to be a bit faulty besides mentioned streaking, it also struggles with bigger messes.
PROS
Easy to clean up and keep this vacuum neat
Relatively compact and easy to store
Glides on hard floors make it very easy to maneuver
Combined vacuum mop functions save time and effort
Precisely suited for households with pets
Quick and easy to assemble
CONS
Most inefficient when dealing with large and sticky messes
Occasionally leaves streaks after mopping
Vacuum suction is not so strong
Difficult to get into tight corners or pushing up against the wall
The vacuum is a little loud
Only includes a 25ft power cord
What's Included?
The first thing you will pull out of the box is the mop piece with the pads. Next, you will take out the body of the unit alongside the handle and chord. The last thing you will see is a measuring cup all the way at the bottom.
Do not forget about it as it is easy to miss because it is under a cardboard piece.
The Bissell Symphony Pet Steam Mop 1543A comes with three kinds of pads:
The washable grey and white striped pad are used for heavily soiled areas and more severe messes
The washable white that comes clicked on is for everyday use, standard steam cleaning and casual messes
The third type of pad you will get are disposable single pads for the kind of dirt you would just rather throw out
It is a very basic and simple build. There are not many pieces to craft together, it is all pretty straight forward.
Side note: You can purchase your own disposable pads. There are a few different kinds of pads you can replace them with. There is also odor eliminating scent disks one can insert. Be careful when ordering to make sure that they are the proper dimensions for this mop head.
A feature we would love to see in this product is a mop head that is more flexible and maneuverable that would grant the user more accessibility when it comes to those tight corners and crevices.
Overview Of Features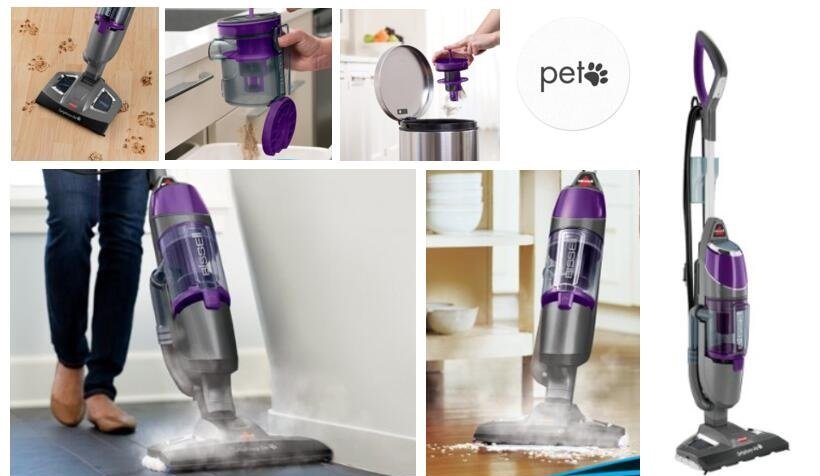 The Bissell Symphony Pet Steam Mop 1543A is a great concept specifically geared towards pet owners as it is an upgrade from the Bissell Symphony 1132A. Features include a stronger vacuum, new bristles for better pet hair pickup, a redesigned dirt cup that makes disposing of the dirt easier and cleaner by discarding at the press of a button, a new dirt tank filter, and a steam boost tray.
This is all in addition to the basic functions which include:
Vacuum
Steam clean
Wash
The Bissell Symphony Pet Steam Mop 1543A conveniently combines these three functions to create a simple to use, quick and easy unit. This combination will make cleaning your floors from multiple types of messes, ranging from sticky to mud to dust and to hair, simple and fast to clean up with only one cleaning gadget.
Its steam cleaning function can eliminate up to 99.9 % of germs and bacteria avoiding any use of artificial soap or chemicals. Though it is important to mention that for full sanitation the steam mop must be held in place to really get the effect.
With all said this is a very friendly feature for pet owners and homes with little children.
The Bissell Symphony Pet Steam Mop 1543A's goal is to provide a simpler cleaning experience while saving you time and space. Its compact design and lighter weight make it convenient to clean and store away comfortably and efficiently.
All these great features create an appealing concept and have been approvingly embraced by many households.

Review Summary
All in all, the Bissell Symphony Pet Steam Mop 1543A is a great product that has been very popular with its pet owners, although it still has some room for improvement like any other house gadget. Its inventive design combines all the cleaning chores into one effective cleaner.
Related Resources: