A Deep Dive Into The Dyson DC 56 Cordless Stick Vacuum
Also known as the DC hard, the Dyson DC 56 cordless stick vacuum is versatile and made for hard floor surfaces. Using a 22.2-volt lithium-ion rechargeable battery making the power that you experience is far better than with other batteries.
From cleaning corners and crevices to hardwood, tile, vinyl, and marble floors the Dyson DC 56 have multiple uses. Its light cordless design makes it easy to reach those tight spots that are usually harder to reach.
The Dyson DC 56 comes with a few different attachments including a small combination dusting attachment, a crevice attachment, and an aluminum wand that is connected to a wipe plate making it simple to reach every dusty inch.
This Dyson model also comes with a wall mount, a charger, and extra floor wipes. The wall mount allows you to charge your DC 56 while it is conveniently put away together with its attachments. Charging time is between 3 to 3.5 hours.
This vacuum cleaner comes in two modes – standard and max. The battery life in standard mode will last between 15-20 minutes at 28 air watts of suction and in the max mode, it will run for 6 minutes at 65 air watts of suction.
The DC56's v2 engine is built with the cyclone technology using 5 separate cyclones.
The dust canister can hold up to 0.09 gallons and it empties at the push of a button.
The DC56 also comes with a washable HEPA filter designed for long term durability. The HEPA filter removes 99.9% of all particles larger than 0.3 microns, this same filtration system has been used for years in the biomedical industry. Dyson recommends washing the filter once a week (depending on the frequency of its use) and leaving it out to dry for 12 hours.
The DC 56 weighs a little under 5 lbs. and is 10.7 inches long 29.5 inches wide and 5.6 inches tall.
Read Related Article: 10 Best Dyson Vacuum Cleaners
Who's It For?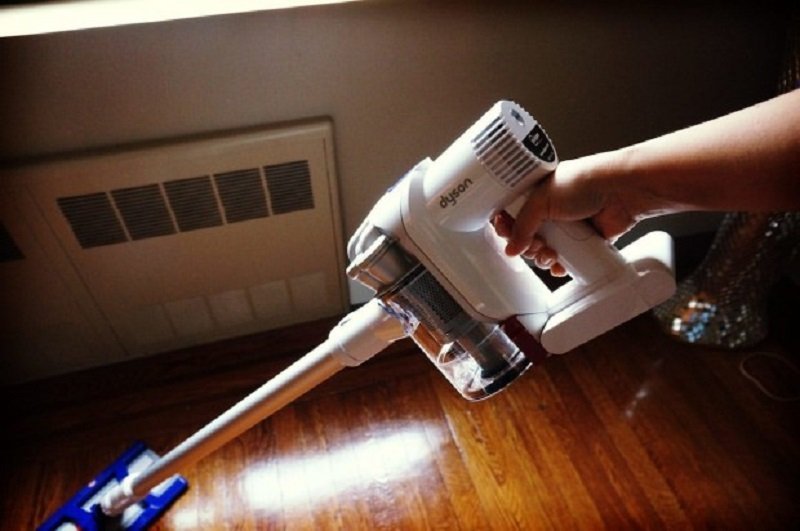 The DC 56 is ideal for people who clean relatively small areas and need to dust difficult corners as well as mop hard floor areas. It's an ideal fit for a smaller household. However, it is not recommended for cleaning larger areas or piles of dirt as the battery runs out pretty quickly, and the suction is not the strongest.
It is simple and user friendly with its comfortable click in attachment tools, wall mount, washable filters, and its overall durable and simple design. The DC 56 has been discontinued so keep in mind that the price range will have gone up since there is a limited supply.
What We Like About The Dyson DC 56 Cordless Stick Vacuum
Here are some of the things that make the Dyson DC 56 a likable product. Its vacuum wipe plate combination makes it an efficient cleaner of hardwood floors.
It is lightweight, portable, and easy to maneuver. The canister is easy to clean, it empties at the push of a button.
It is quite easy to change the pads. It is quick, quiet, and easy to put away. This is a great purchase value for a floor cleaning product.
What We Don't Like About The Dyson DC 56 Cordless Stick Vacuum
Here is a list of things that were found unsatisfactory by customers. The battery life does not last longer than 15 minutes, so it is not suited for cleaning larger areas. It does not work on carpet.
The pads are not so wet, to begin with, therefore, they dry quickly and need to be switched quite frequently. Vacuuming while mopping makes the pads dry out even quicker, making it very challenging to have to switch the pad 3 to 5 times while attempting a quick cleaning process.
This is not efficient for quick and easy cleaning; it makes the task more difficult. The pads themselves are not very thick or absorbent making them not the most effective cleaners often leaving dirt, and random debris pushed to the side instead of being sucked in.
The pads also leave ugly streaks creating more cleaning. Many users have reported buying pads from other companies as the included pads just do not cut it.
The vacuum function nozzle does not suction dirt properly. It often will not properly pick up dirt and hair. It does not vacuum as good as a vacuum should, nor does it mop properly.
The power button does not lock in the activated mode. Even a strong abled person can get tired from holding down the power button for more than 5 minutes at a time.
The Dyson DC 56 cannot fully operate as intended when using both mopping and vacuuming functions simultaneously. In fact, it creates more problems while not doing a very good job when utilizing both functions.
PROS
Quicker than vacuuming and mopping separately
Comfortable and lightweight
Cordless
Easily removable parts making it available for handheld use as well
Comes with a wall mount making it comfortable to store in smaller living spaces
CONS
Battery life is shorter than some customers would prefer
Not feasible to use it on carpet flooring
Does not always pick up all the dirt, and bigger particles like cheerios and pet hair, sometimes pushing it to the side
The vacuum head suction does not work so effectively
The wet pads do not retain moisture for too long
The power trigger must be held down throughout the entire time of use
Relatively pricey for what you get with this product
Pads tend to leave streak marks occasionally
What's Included?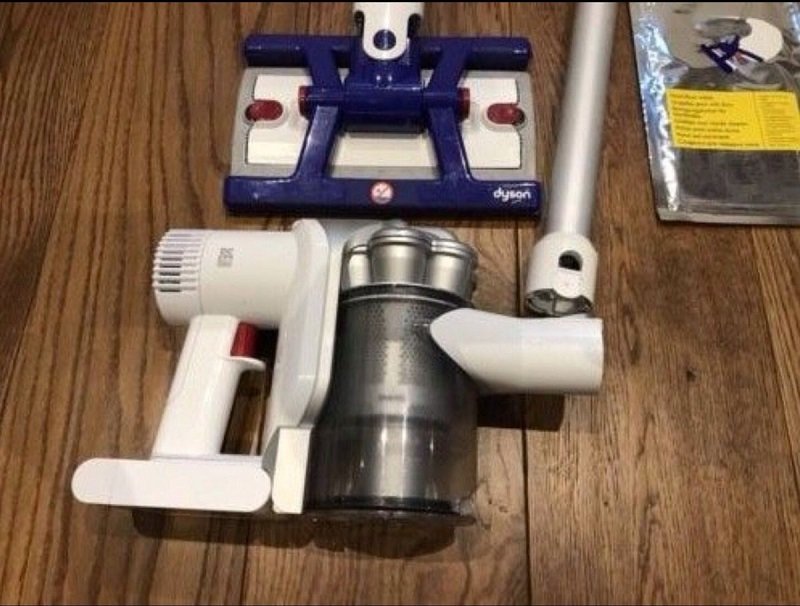 So, what do you get when you buy the Dyson DC 56? You will receive upon opening your box the following parts:
The vacuum body holds the cyclones, bin, and filter.
The bin is used as the dust canister. It has a capacity of 0.09 gallons. The dirt can be discarded from its bottom with the push of a button.
The cyclone's main purpose is to separate larger particles from the very fine dust, using centrifugal forces. It disposes of the larger particles into the bin, leaving the vacuum bag empty for longer periods of time, being filled only by fine dust particles, making it last close to 20 times longer than other bags.
The filter does a great job filtering out allergens like pollen dust, dust mites, etc.… making it a great help for people with asthma or allergies.
Next, we have the aluminum wand that is easily removable and can be used with multiple attachments. Its strong build makes it very durable and vacuum-tight.
This product comes with a charger compatible with the wall mount making it easy to charge while your portable hand vacuum is stored away.
The crevice tool's slim design allows it to reach far and narrow spaces that would otherwise be difficult to clean.
The vacuum combination tool is built for cleaning up more delicate surfaces, its bristles allowing it a gentle dusting.
The wall mount, an excellent storage option allowing you to put your vacuum and tools away discreetly and comfortably while enabling you to charge the vacuum while mounted.
The wipe plate attachment is one of the star features in the DC 56 combining the mop and vacuum making clean-up quicker.
The floor wipes are easily replaceable. You can order them online, just be sure to verify it is the right fit with the proper measurements.
The following are some extra parts you can purchase to enhance and customize your vacuuming experience:
The extension hose is a rainbow curved hose that can be attached to make it more accessible to get into different spaces.
The mini motorhead agitates the surface with its motorized brush making it easier for the removal of dust from different kinds of fabrics.
The in-car charger is great for when you are on the go. Then you have your vacuum accessible whenever and wherever.
The soft dusting brush is great for curtains and lampshades as it has a gentler touch. The multi-angle brush tool is equipped with rotating tubes allowing it to reach the most unusual angles. The wide nozzle has a wider sweep for cleaning larger surfaces.
The stubborn dirt brush is designed for scrubbing mud and dried dirt, using stiff bristles in different angles pushing dirt toward the vacuum suction. The gaps between the bristles make the brush easier to move around.
The Flexi crevice tool has some similarities to the crevice tool, however, the main difference is that it has a pull-out flexible bending extension making it easier to reach difficult angles, for example: in cars, couches or under cabinets.
Here are the main pieces it comes with listed clearly below:
The vacuum body comes with:

A bin
A cyclone
The bin seal
A pre-filter
Aluminum wand
Cordless vacuum charger
Crevice tool
Vacuum combination tool
A wall-mount

Wipe plate/mop
Floor wipes
Here we will list the extra parts you can purchase as attachments:
Extension hose tool
Soft dusting brush tool
In-car charger
Mini motorhead
Multi-angle brush tool
Wide nozzle tool
Stubborn dirt brush
Flexi crevice tool
Overview Of Features
The main features of the Dyson DC 56 Cordless Stick Vacuum are the following:
A cordless, rechargeable, handheld vacuum mop that consists of the main body, an aluminum wand, and different attachments. It has an 8.5-inch width to the mops cleaning surface.
This product uses 28 air watts in standard mode or 65 air watts in max mode. It uses a 22.2 – volt ion lithium battery and weighs 4.87 Lbs.
The cordless design and rechargeable battery make it easy to carry this vacuum around your house, reach high places as well as many other typically difficult to reach places all thanks to the included aluminum wand and its multiple attachments.
The battery life does not have the longest life span, making it difficult to clean larger areas. If there was a longer battery life it would be a great advantage to this product.
The cyclone is a very powerful aspect of this machine, which efficiently removes the bigger pieces of dirt while putting less wear and tear on the filter so it will last much longer as it manages only the smaller particles.
The suction really needs to be more powerful in this kind of combination of mop and vacuum. The mopping feature would be more effective if the pads were thicker and more absorbent.
The wall mount is great to have as you can store the body and additional tools making it easily accessible. It is smart for smaller living spaces as it does not take up a lot of space. All of this while it can be charging and ready for its next use.
This vacuum's function is limited specifically to hardwood floors which means it will not work on other surfaces such as carpets and grouted tiles. It's unreliable in its ability to pick up larger particles and hairs as well.
The power trigger feature seems a little redundant, holding down a button during your entire cleaning process seems a little unadvanced and tiring. An automatic lock button would be extremely welcome here.
The bin is really easy and simple to clean. You just press a button and all the dirt is discarded neatly.
On top of the mobility of this cordless device, there is a convenient crevice tool that is extremely fitted for reaching those narrow spaces.
The combination tool has gentle bristles making it perfect for dusting and cleaning your more delicate areas.

Review Summary
The Dyson DC 56 Cordless Stick Vacuum is not one of the greatest products found in the market. Although there are many flaws in the design, the overall idea of combining a vacuum and mop to a handheld unit is a clever idea. To sum it all up the Dyson DC 56 is pretty good in theory. but it does not seem to live up to all of the expectations.