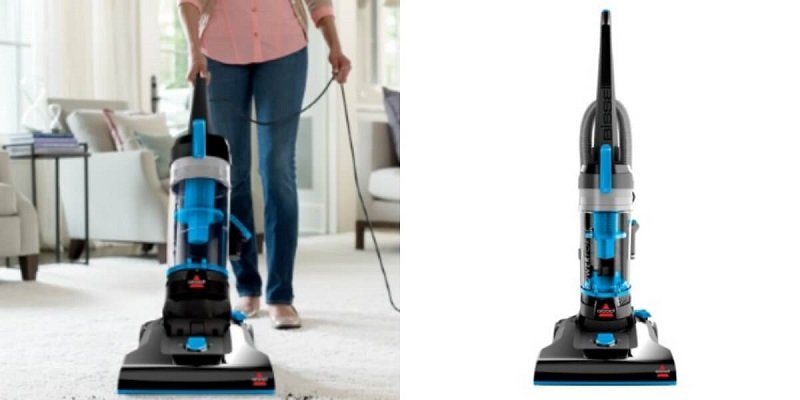 Bissell is a well-respected home appliances company, also known as Bissell Homecare. They have been in business for over 140 years with the company being managed by 5 generations of ambitious company leaders. Their goal is to develop easy to use, convenient cleaning solutions that make cleaning feel less like a chore.
Melville Reuben and Anna Sutherland Bissel were a husband and wife team that owned a small and humble crockery store. Their passion for developing cleaning solutions started in their shop. It all began when they would struggle to keep the store clean and tidy as the store would collect a vast amount of dust, frequent breakages and spillages, tidying up became a full-time job.
Melville Bissell created a carpet sweeper for their crockery business, and before they knew it, clients were flooding into their store asking for a sweeper like theirs. The crockery in their store was no longer the star of the show and their new business naturally became selling the carpet sweepers that Melville Bissell developed.
Following Melville Bissell's death in 1889, his wife Anna continued to fight for their cleaning appliances business and it wasn't long before Bissell was a huge success in Europe and the United States. In fact, Bissell was such a large household name that even the British royal family were using their cleaning appliances in the palace.
Fast forward to now and Bissell sells more than just a brilliant carpet sweeper. They have an array of sweepers, steamers, vacuum cleaners, wet cleaners, and spot cleaners on the market, let's not forget the carpet shampoos and pet cleaning products too.
In this article, we are going to be reviewing the Bissell PowerForce Helix vacuum cleaner. By the end of this review, we hope you will have a good understanding of the vacuum's features and what each feature means for you. Vacuums can cost a fortune, however, Bissell is famous for its fair prices, so, is it really necessary to spend a fortune on vacuum cleaners? Keep reading to find out.
A Deep Dive into the Bissell PowerForce Helix
Bissell's PowerForce Helix vacuum cleaner is a bagless vacuum cleaner that is suitable for both hard floors and upholstery. It comes with tools and accessories that make vacuuming hard to reach areas easier such as a crevice tool, extension wand, and dusting brush.
The PowerForce vacuum is suitable for hard floors and carpets, however, it works particularly well on carpet and furniture. It has a brilliantly money-saving design, its filters don't ever need replacing, simply wash and reuse them, the bin is bagless and just requires emptying when it is full.

Who Is It For?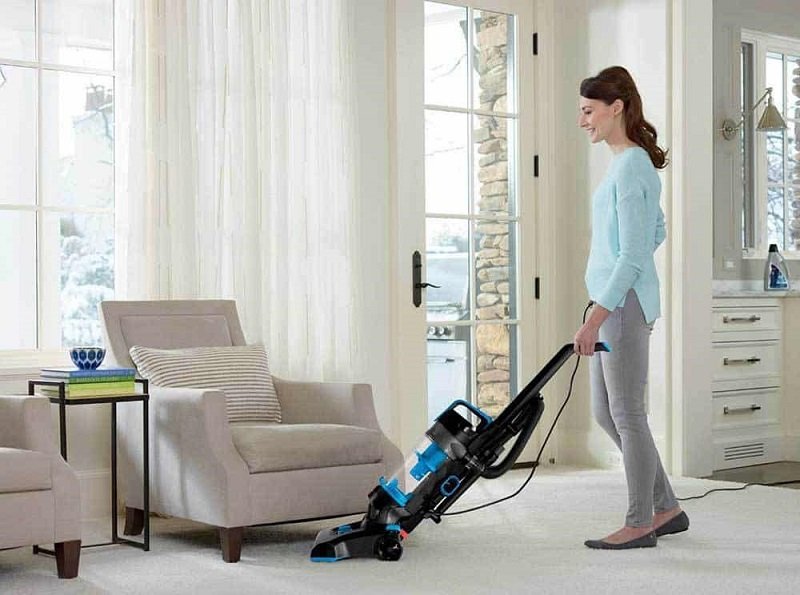 Customers with both carpet and hard floors would benefit from using the Bissell PowerForce Helix vacuum. Moving from hard floors to carpets is seamless and you don't need to replace parts or change any settings when you do so.
People whose pet hate is having to constantly buy vacuum bags would love this vacuum cleaner too as it is bagless with an easy and mess-free bin. The bin is completely see-through, so you can see exactly how much dirt and debris you are picking up, as well as when the vacuum needs emptying.
The PowerForce Helix is brilliant at sucking up pet hair and is 'pet inspired'. Bissell hasn't advertised this vacuum cleaner as one that all pet owners should have at home or anything like that, and they haven't made a big fuss about the vacuum's hair lifting abilities, however, the PowerForce Helix is notorious for doing a brilliant job at it.
Now on to the most important aspect of the vacuum… its affordability. Anyone looking for an affordable vacuum cleaner that feels modern and lightweight should seriously consider investing in the PowerForce Helix. It feels modern and high-tech, without the high price tag.
The vacuum cleaner isn't appropriate for someone looking for a robust vacuum cleaner. It feels quite toy-like and flimsy, so if you know you are constantly knocking your vacuum cleaner about and hitting it on table legs, this probably isn't the right vacuum cleaner for you.
What We Like About Bissell PowerForce Helix
Let's start off by giving credit to how well it has been designed. We love the fact that you can see when the bin is full and that you don't need to keep opening it up to check. The filters are also washable and reusable, saving you money in the long run.
The tools that come with the vacuum cleaner are really useful. The crevice tool gets into nooks and crannies while the brush heads can be used to clean couches and other furniture.
It picks up fine dust particles as well as split bits of cereal and other pieces of debris. The vacuum doesn't struggle with transitioning from hard floors to carpet and back again, making vacuuming over rugs, carpets and hard floors quick and easy.
Dog and cat hairs don't get tangled up in the vacuum and it rarely gets clogged up if ever. All of the parts are easy to clean and detaching and reattaching all of the pieces is effortless.
The suction power is brilliant! During a regular vacuuming session, you won't find yourself having to vacuum over and over the same area.
What We Don't Like About Bissell PowerForce Helix
The suction power is temperamental. On some surfaces, the suction is absolutely brilliant, while on others it has less than desirable suction strength and when it doesn't work properly, vacuuming takes a very long time.
Opening and closing the bin should be done with care. If you do not open the bin over the trash can, bits of dirt and debris fall out and will need to be cleared up again. Its bin capacity is just a smidgen above average with a capacity of 1 liter.
If you have a large home you will probably need to empty the bin once or twice before you have finished cleaning. This can really interrupt your workflow and cause you to lose concentration and the will to finish the job.
The vacuum is hard to push back and forth and this difficulty only seems to worsen over time. We aren't sure of the reason for this but the problem is much worse on carpet floors than it is on hard floors.
We were disappointed in the hose length, it is only 5 ft long! Using such a short hose to vacuum means that getting the hose under furniture is almost impossible. Having to move furniture around every time you clean is very inconvenient indeed.
Although the PowerForce Helix vacuum cleaner is lightweight, portable and easy to store away, it feels quite plasticky and easy to break. Sometimes having a slightly heavier vacuum that has more metal components feels higher quality, so we are giving Bissell's PowerForce Helix vacuum a thumbs down for its overuse of plastic.
Vacuuming high pile carpets using the PowerForce Helix vacuum is not recommended at all. The vacuum jams up and becomes hard to push on carpets that are fluffy and thick.
PROS
Lightweight
Easy to use
Bagless
Filters are washable and reusable
CONS
Feels toy like
The hose is short and inconvenient
What is Included?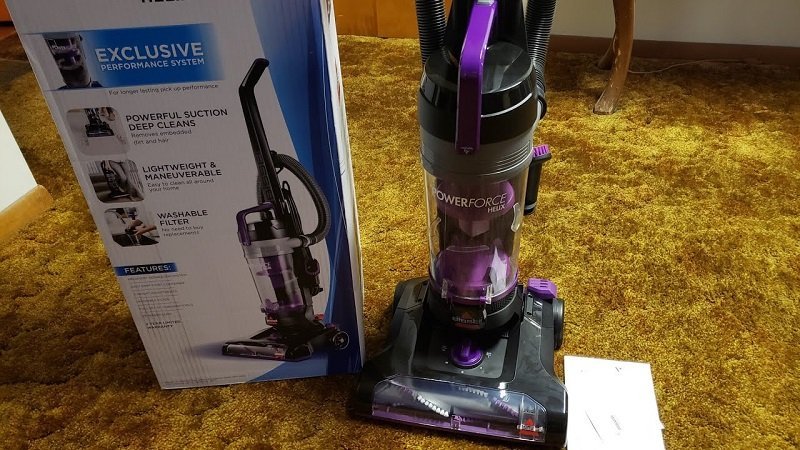 The vacuum comes with a crevice tool and dusting brush as well as an extension wand. The extension wand is brilliant for cleaning cobwebs in the ceiling and reaching high shelves that are hard to dust down.
The vacuum doesn't require any tools to assemble it and out of the box, assembly doesn't take longer than 10 minutes. All of the tools are easy to pop on and off with ease.
Overview Of Features
Cleaning Path
The Bissell PowerForce vacuum cleaner has a 13-inch cleaning path. The longer the cleaning path the less time it takes to finish vacuuming. 13 inches isn't considered overly large or particularly short, it is just right.
Bin Capacity
It has a 1-liter bin capacity which is great, especially because you can see exactly when the bin needs emptying because the bin is clear. The dirt cup is easy to empty too and as long as it is opened over a trash can, it won't make a mess.
Bagless
Gone are the days of remembering to purchase such a forgettable item like a vacuum bag! The bin is bagless with a great bin capacity for ease of use.
Washable Filters
The filters are easy to wash and do not need replacing. When they are dirty and clogged up, remove them and run them under the sink, dry them, and put them back.
Weight
It is super lightweight weighing only 11 pounds. Lightweight vacuum cleaners are great for people that need to vacuum staircases.
Soft Bumper
The vacuum cleaner's soft bumper feature protects it from knocks and bumps.
Convenient Carry Handle
The carry handle is comfortable and adds to the vacuum's ease of transportation.
Power Cord Length
Having a long power cord is great! Plug in the vacuum and move around the room freely without having to dance around plug sockets and a short power cord.
Unfortunately, this vacuum has a short power cord of only 23 inches. High-quality vacuum cleaners usually have a power cord length of at least 30 or 40 inches, so this model is below average in this feature. The cord doesn't automatically rewind either, and every time you have finished cleaning, the cord must be wound back.
Rotating Brush
The rotating brush pulls up embedded dirt and pet hair from low pile carpets.

Review Summary
Overall, we were impressed with the Bissell PowerForce vacuum cleaner. It performs well vacuuming your home and can be stored away in a convenient place without taking up a lot of room.
The fact that it looks so modern and saves money on filters and vacuum bags impressed us and it sure is an investment household item. As long as you use it on low pile rugs, carpets, and hard floors as per the instructions, the vacuum cleaner will last you a long time and is reliable and works well.
We wouldn't recommend purchasing this vacuum cleaner for commercial buildings as it isn't durable enough or large enough for the job. This model for general household cleaning and maintenance only, but it sure does do the job brilliantly!
FAQ
If the review didn't quite clear up all of your unanswered questions about the Bissell PowerForce Helix, then the following frequently asked questions section id for you.
Q: Can the brushroll be removed to clean?
A: The brushroll can be cleaned and detangled whether it is attached to the vacuum cleaner or not.
Q: Is the power cord long and comfortable?
A: The power cord isn't as long as you would want it to be. These days you can purchase corded vacuum cleaners that have a 50 ft power cord.
Q: Can I purchase replacement attachments?
A: Replacement parts are hard to come across. In order to purchase a replacement part, you will need to contact Bissell directly and email them the vacuum model and the part you require. There is no guarantee that a replacement part will be sent out to you.
Q: Can I vacuum under furniture comfortably with the Bissell PowerForce vacuum?
A: No, unfortunately, the vacuum's hose is short and rigid. Furniture that is far off the ground is easier to clean under than low furniture which will probably need to be moved in order to clean the floor underneath.
Q: Can the vacuum cleaner be used on hardwood floors?
A: Yes, the vacuum cleaner can be used on hardwood floors. Some hardwood floors are delicate and should be vacuumed with care.
Q: Is the PowerForce Helix vacuum very loud?
A: The vacuum cleaner isn't very loud, nor is it considered quiet. It won't disturb your conversation and you can still hear the television or phone ringing over the vacuuming noise.
Related Articles