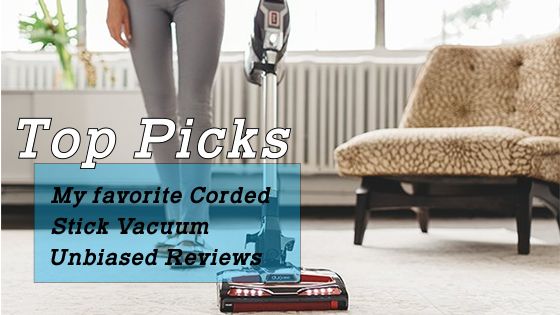 Stick vacuum with cord are gaining immense popularity in the marketplace and are posing a challenge to cordless options. Stick vacuums are not only lightweight but also extremely versatile and boast impressive functionality, price, and performance.
In our reviews for the best corded stick vacuums, we found out that SharkNinja Rocket DuoClean (HV382) scores excellent rating and is good at cleaning all types of flooring. This cleaning device also possesses an alluring design and comes with dual-brushes for cleaning laminate floor and low carpets.
In this best corded stick vacuum reviews, we will be exploring the best stick vacuums with a cord that will give you a great cleaning and excellent resilience.
Without further ado, let's take a look at the top rated corded stick vacuum cleaners in 2020.
Best Corded Stick Vacuum – Comparisons
PRODUCT

FEATURES

LATEST PRICE

SharkNinja Rocket DuoClean (HV382)

DuoClean Technology
Pet Multi-Tool
Ultra-lightweight
9.9 lbs

Check Price

Bissell 81L2A

Easy-to-empty dirt cup
V-Shaped Foot
Swivel Steering
7.5 lbs

Check Price

Shark Rocket Corded (HV302)

Dual storage options
Swivel Steering
Fingertip controls
7.6 lbs

Check Price

Hoover Corded Cyclonic, SH20030

Powered Brushroll with Cyclonic Technology
Extreme Recline Handle
Edge Cleaning Bristles
10.63 lbs

Check Price

Dibea 2-in-1 Corded, SC4588

18Kpa Powerful Suction
Multi-Layer HEPA
Swivel steering
4.6lb

Check Price

VonHaus 2-in-1 Corded Vac

1.3 Liter Dust Capacity
HEPA
19.5ft Quick Release Power Cord
2 in 1 Stick Vacuum/li>
5.55 lbs

Check Price

Eureka Blaze 3-in-1

3-In-1 design with onboard crevice tool
swivel steering
18′ Power cord and X-Large dust cup
3.97 lbs

Check Price

NEQUARE Corded Vac

HEPA and Sponge Filtration
Lightweight
Excellent Suction Capabilities
4.7 lbs

Check Price

Bissell 3-in-1 Corded Vacuum

15′ power cord
Dirt cup
Versatile
4.1 lbs

Check Price

INSE Vacuum Cleaner Corded I5 Stick Vacuum

Powerful Suction
22′ power cord
3-in-1
6.5 lbs

Check Price
MOOSOO D601

22′ power cord
Large Dirt Bin
Super Light weight
2.8 lbs

Check Price
Best Corded Stick Vacuum Cleaners – Reviews
1.

 Shark Rocket HV382
More photo & price on
Amazon.com
The shark hv382 vacuum is one of the leading cleaning appliances we have today. This unit comes standard with DuoClean Technology featuring 2 brush-rolls that work in unison to achieve a profound cleanup.
It eliminates 3 types of dirt: small, stuck-on, and large particles. The DuoClean Technology comprises a soft brush-roll along with a bristle brush. The former engages the floors directly and pulls in large particles for a polished look, while the latter has a powerful suction for removing dirt and stuck-on debris.
Regardless of the surface, the DuoClean Technology is relentless against all piles of dust particles.
The product is light . Only 10 pounds. You can easily convert this upright vac into a 4.6-pound handheld vacuum for versatile floor-to-ceiling cleanup.
It includes multiple accessories such as Duster Crevice Tool, Pet Multi-Tool, and Wall Mount Storage Hook.Also available is a brush-roll garage, which gives you hassle-free access to the brush-roll for easy maintenance. A pet multi-tool seizes embedded pet air throughout your surfaces.
This Shark Rocket HV382 comes with powerful LED lights situated on the nozzle and hand vac. LED lamps help you spot hidden debris for a thorough cleaning of your floor.
What we liked
Easy assembly, very handy and portable
Captures of large particles effectively
 Impressive suction power
Powerful motor for picking up everything including pet hair
Easy to maneuver and works perfectly on carpets and hard floors
What we didn't like
The Shark DuoClean rocket corded ultralight vacuum (hv382) is perfect for cleaning a variety of surfaces including carpets and hardwood floors.
Despite being a little noisy, it still makes every cleaning task pretty easy. The manufacturer has included a handful of accessories to help you clean your floors without interruptions.

2.

  Bissell PowerEdge Pet Hardwood Corded Vacuum 81L2A
More photo & price on
Amazon.com
The Bissell 81L2A PowerEdge is a reasonably priced stick vacuum cleaner with a V-shaped nozzle.
​It is among the top rated best corded stick vacuums designed to handle hardwood floors and pet stains. The unit boasts an ingenious design, which is expedient enough in executing optimum suction.
The V shape directs debris toward the center suction path so that it becomes easier to clean against the walls and baseboard.
The ends of the V-shaped structure seize small or fine debris, while the Swivel motion captures particles around furniture legs and low-pile area rugs.
It features a 20-feet long cord which makes it easier to get around and pick up large volumes of dirt and debris.
It comes standard with a Quick-Release cord wrap that makes it simple for the cord to wind up quickly. The unit is relatively lightweight, weighing only7.5 pounds.
You can use it to capture debris in tight spaces and along the edges of furniture without a problem. Storage is also a breeze because the unit can sit upright on its own.
The bissell poweredge pet hard floor corded vacuum 81l2a captures debris and other fine particles with no broom or other attachments needed.
Its cord is long enough to clean a path width of up to 11.35 inches. With an easy-to-empty dirt cup, cleaning the Bissell 81L2A is without a doubt hassle-free.
What we liked
Quick and easy assembly
Easy-to-empty dirt cup
Innovative suction technology
Affordable pricing
Effective in cleaning around furniture legs
What we didn't like
Has no HEPA filtration
Dustbin fills up very quickly
The Bissell 81L2A is a useful best corded stick vacuum which provides superior suction with no attachment or broom needed.
It effectively captures pet hair and dirt and has a swivel head for efficiently cleaning around furniture legs.
The unit is easy to assemble, easy to empty, and has ingenious suction technology that works fabulously on floors and pet hair.
It's reasonably priced too, so it suits those homeowners on a tight budget.

3.

  Shark Rocket Ultra-Light Corded Vacuum HV302
More photo & price on
Amazon.com
Shark Rocket Ultra-Light Corded Bagless Vacuum is a powerful corded stick unit suitable for carpet and hard floor cleaning
.
It's ultra-lightweight at 8 pounds, so it easily converts from an upright vac into a handheld unit for versatile above-floor cleaning.
This vacuum features swivel steering for excellent maneuverability around furniture.
The unit is also standard with two storage options. The first one involves attaching the handheld vacuum to the base of the wand, while the second option involves securing the unit to the wall mount.
It includes various attachments for picking up the dirt and debris on bare floors. These attachments comprise the Dust-Away hard floors and a Home & Car Detail Kit.
This unit has excellent suction power ideal for cleaning hard floors and auto interiors.
Other useful attachments which come as standard in this package are Accessory Bag, Hard Floor Hero, 5-inch Crevice Tool, and Upholstery Tool among others.
These micro tools come in handy when cleaning the tiniest of spaces.
What we liked
Easy to assemble and use
Easy to empty the dirt cup with minimal mess
Very powerful suction
The cord is lon
g and nice
Great for the price compared to the competition
What we didn't like
Dirt receptacle requires frequent emptying because it's small
Too heavy and doesn't stand on its own
The shark hv302 vacuum is potent enough to deliver impressive cleaning results. Its suction power is unmatched, and you'll find it excellent on hard floors, carpets and auto interiors.
It's comfortable to maneuver around with little to no effort at all. It's recommended for anyone looking for a stick vac unit with easy assembly and configuration.

4. 

Hoover Corded Cyclonic Stick Vacuum SH20030
More photo & price on
Amazon.com
The hoover sh20030 is a great little corded stick unit recommended for apartments. It boasts a lightweight design so you can enjoy the ease of use and incredible suction power.
The product comes with powered brush roll comprising Cyclonic Technology for smooth transition from low pile carpeting to hard flooring and area rugs.
Not only is this stick vacuum sturdy but also efficient in removing the dirt and dog hair.
It includes a 20-feet long cord that makes it easy and comfortable to clean a vast space.
It comfortably fits into tight spaces, which implies that you don't have to move heavy furniture while cleaning.
This corded stick vac features WindTunnel Technology, which comes in handy in removing stuck-on dirt and minimizing scatter on carpet.
Various features come standard in this vacuum cleaner, including a wide cleaner mouth for removing larger particles, a power brush roll, extreme recline handle, bottom release dirt container with cyclonic technology and edge cleaning bristles.
With a swivel steering, moving under and around furniture is easier than ever.
The edge cleaning bristles remove the dirt from edges for near-polished results.
The extreme recline handle lets you reach all corners of furniture with ease.
The non-marring wheels provide easy maneuverability around furniture.
The low profile base fits under furniture and counter edges.
What we liked
Easy setup and simple storage
Easy maneuverability under and around furniture
Great recline handle
Extended cord for cleaning a wider surface area
Great lightweight unit with powerful suction
What we didn't like
Doesn't include accessories
The hoover vacuum cleaner linx bagless corded cyclonic lightweight stick vacuum sh20030 is an impeccable corded stick vac that lets you enjoy the sturdiness of a well-built structure. It proves ideal for cleaning hard floors as well as rugs or carpets. In mid-range price, anyone can enjoy this fantastic corded-stick vacuum.

5.

  Dibea 2-in-1 Corded Upright Stick & Handheld Vacuum
More photo & price on
Amazon.com
Dibea SC4588 is a corded upright stick vacuum cleaner suitable for cleaning multiple floor types, such as tile floor, hardwood floor, vinyl floor, ceramic floor and thin carpets.
It has a very powerful suction designed for removing pet hair, food debris, and even cat litter. It is devoid of brush-roll design, which means it won't get stuck by pet hair.
This 600W two-in-one stick vacuum has a 18-kpa powerful suction. It provides efficient power for vacuuming on hardwood floors, tile, marble and much more. It can suck up all sorts of crumbs, dust, and pet hair.
It integrates a detachable 1.0-liter dirt cup, which is easy to empty and easy to detach for cleaning.
The 19.7-feet long power cord along with a crevice tool allows you to clean up any surface in one pass.
This unit is suitable for any home with children and pets thanks to the advanced HEPA filtration system, which effectively spins particles away.
The powerful suction and filtration will reduce bacteria and allergy. The unit is ultra-lightweight, weighing less than 4.6 pounds for easy and hassle-free cleaning.
It has a non-slip handle and LED front lights which help you clean unseen areas.
What we liked
Powerful suction for deep cleaning
Suction adjustment for maximum suction
Mess-free empty
Easy to disassemble and remove the dirt cup for maintenance
Easy to store as it can slip into closet spaces
What we didn't like
Relatively loud
Could work better on rugs
The pros of the Dibea SC4588 by far outweigh the cons. It is practical, convenient and straightforward to use. It saves your space and has good suction power. What's more, it doesn't scratch hardwood floors.

6.  VonHaus 2-in-1 Corded Stick Vacuum
More photo & price on
Amazon.com
VonHaus 2-in-1 Corded Stick and Handheld Bagless vacuum is a lightweight unit with brush accessories for easy cleaning of the whole house.
This item encompasses the extension tube that is capable of cleaning as a conventional long vacuum cleaner. It easily converts into a handheld vacuum to provide a lightweight option for cleaning drapes and furniture.
This 2-in-1 stick vacuum cleaner integrates the 5.5 Amps with 14 KPA to supply great suction power. You can use it either at full length or with no extension for handheld cleaning.
The machine comes as standard with a 1.3-liter capacity, which requires no frequent emptying unlike other smaller models.
The dust cup is easy to detach and empty the contents into the bin. With the availability of washable HEPA and sponge filtration system, VonHaus 2-in-1 corded stick vacuum prevents the spread of bacteria and allergies by locking in small particles.
Other vacuums simply re-circulate these particles back into the air of your room.
This item is ideal for cleaning hardwood floors because it glides easily over various floors and has excellent suction capabilities. It's also perfect for cleaning carpets, stairs, furniture, and rugs.
In addition to the 19.5-feet Quick Release Power Cord, the item includes the hose adapter, crevice tool, shoulder strap and small brush attachment for a handheld.
What we liked
Quick assembly and easy to use
Lightweight and easy to maneuver
Impressive vacuum versatility
HEPA and sponge filtration to prevent allergens and bacteria
Several vacuum accessories included as one package
What we didn't like
The canister is fragile and can crack easily
VonHaus 2-in-1 vacuum is one of the best domestic appliances you can have in your home. It's compact and lightweight with impressive vacuum capabilities.
This little device makes cleaning of hardwood floors easy and enjoyable. And with several attachments that guarantee detailed cleaning, VonHaus 2-in-1 is an excellent product for the price.

7.

  Eureka Blaze Stick Vacuum
More photo & price on
Amazon.com
Eureka 3-in-1 Blaze Lightweight Corded Stick Vacuum is a uniquely engineered appliance with a capture nozzle that grabs all debris in its path.
It's lightweight and highly maneuverable, thanks to the 3-in-1 design and swivel steering which makes cleaning a breeze. With the onboard crevice tool, you can easily customize your device to suit your cleaning needs.
This item is perfect for cleaning a wide range of surfaces such as hard floors, low pile carpets, and area rugs among others.
The integrated 2-amp motor is ideal for picking up particles like pollen and dust. The washable filtration system is engineered to capture debris and improve air quality in the room. Eureka Blaze Stick Vac boasts an 18-inch power cord alongside extra-large dust cup to ensure you finish the cleanup faster and efficiently.
The item gives you absolute comfort as it minimizes frequent trips to the trash bin. The 3-in-1 versatility is impressive considering it quickly transforms from a stick to a handheld or a stair vacuum and back again.
Eureka 3-in-1 Blaze Corded Lightweight Stick Vacuum offers a great way to keep your living room tidy. The Blaze tackles all kinds of cleaning tasks including hard floors, low pile carpets, area rugs and much more.
What we liked
Great inexpensive unit
Has rubber wheels which don't scratch the floors
Good suction and not noisy
Lightweight and super easy to maneuver
Filter is washable
What we didn't like
Awkward location of the power button
Whether you want to vacuum your doggie bed or handle the cleanup after dinner, the Blaze hand vac does it all.
What's more, it's much safer and environmentally-friendly as it's gone through frustration-free packaging certification.

8.

 NEQUARE Corded Stick & Handheld Vacuum
More photo & price on
Amazon.com
The NEQUARE corded stick vacuum is a reasonably priced vacuum with great versatility.
It is equipped with a washable HEPA and Sponge Filtration system that prevents the spread of microscopic particles back into the home. The HEPA filter will last several months under normal use before needing replacement.
This NEQUARE can glide with ease over various surfaces such as hardwood floors, tiles, stairs, and furniture. It is not suitable for carpets though as its strong 17-Kpa suction will make it stick to the carpet.
It boasts a lightweight design weighing only 4.6 pounds for easy transport. Its telescopic handle makes use of minimal storage space. It also comes with a long 17-feet power cord. Once converted into a handheld, it can use an extensible flex-hose. Combine that with the crevice and mini-brush and the NEQUARE is one of the most convenient hand held vacuums around.
The device allows you to clean various places including bathroom, kitchen, living room, furniture, and dark corners with ease.
What we liked
Easy assembly, maneuverability, and operation
Effortless portability
Convenient all-around
Easy and hassle-free maintenance
What we didn't like
Not effective on carpets and rugs
The NEQUARE corded stick vacuum offers great flexibility and cleaning at a reasonable price and is a great option for hard surfaces. It's unusual flex-hose when configured as a handheld adds to the convenience. It is not a good choice though for carpets and rugs.

9.

  Bissell Lightweight 3-in-1 Vacuum
More photo & price on
Amazon.com
You probably know that Bissell is a company with impressive expertise in the vacuum industry. The Bissell 3-in-1 corded stick vacuum is an excellent product with high functionality and reliability. Basically, you can use this item in three different ways.
First, you can use it as a lightweight stick vacuum on hard floors, carpets, and area rugs. Secondly, you can detach the integrated Quick-Release Handle and leave the foot attached for convenient cleaning of staircases. And lastly, you can remove the handle and the foot and use it as a hand vac for cleaning upholstery or countertops.
This item is equipped with a 15-foot power cord, which helps you vacuum the entire room. With this, you don't have to unplug or switch locations to a new outlet, especially if you're cleaning a smaller room. The vacuum is great and the product has no roller that would scratch your floors.
What we liked
The vacuum is easy to assemble and store
Lightweight and simple to maneuver
Gets into narrow or tight spaces without a problem
Easy to operate
No rollers that would damage the floors
What we didn't like
The cord is short
The crevice tool is missing
This stick vacuum with cord is great for the price, although it has some drawbacks.
For instance, it lacks the crevice tool and the cord is very short. Other than that, you can notice that the pros outweigh the cons.
This vacuum works great for those who would like to tackle quick clean ups.

10. 

INSE I5 Corded & Handheld Vacuum Cleaner
More photo & price on
Amazon.com
This is a corded unit with powerful suction that removes dirt, pet hairs, debris, and dust from various surfaces. It has a strong 600W motor with 18KPA suction rating. The unit is made versatile through the availability of two customizable settings. Depending on your current suction need, you can select from either settings to clean furniture upholstery and underneath various installations. Apart from its huge suction power, the vacuum cleaner also has a three-layer filtration system that separates dust particles at different levels. The system is made up of a top mesh filter, upper cyclone filtration, and bottom cyclone filtration. The filtration system protects the integrity of the motor by speeding up airflow and consequently averting blockage.
With respect to the quality it delivers, you may consider this unit to be the best stick vacuum with cord. The vacuum's power cord is lengthy, at 20-ft, and allows you to clean over a large area while the device is plugged in. You get more coverage area through the featured 19 to 31-inch adjustable extension tube. With this feature, you can conveniently clean your stairs and elevated surfaces. To further optimize cleaning, there are two selectable modes – for soft carpets and hard floors – that can be accessed via a press on the brush head's red button.
You can convert this unit from a stick vacuum cleaner into a handheld unit by substituting the long tube with either the 2-in-1 brush or crevice suck nozzle. The handheld cleaner can easily reach into tight spaces and the insides of your car. The vacuum's dirt box has a 1L capacity and it can be neatly emptied by pressing a red button underneath the unit.
What we liked
Comes with three-layer filtration system that speeds up airflow and prevents blockage of the motor
It has a long 20-ft power cord and adjustable extension tube that help you reach wide areas when cleaning
It has a 600W motor with 18Kpa powerful suction
It has a light weight of just 6.52lbs
What we didn't like
1l dust cup may not be large enough for large areas.
This is a lightweight and compact unit that can be neatly stored when it's not in use. It provides massive suction power for removing dirt and debris from different surfaces.

11.

  MOOSOO D601 Bagless Corded Stick Vacuum
More photo & price on
Amazon.com
The MOOSOO D601 Vacuum Cleaner is a super powerful and lightweight corded stick vacuum cleaner that features 17Kpa suction strength and 2 HEPA filters (one is for replacement).
This upright corded vac removes all sorts of dirt that may be stuck on the floor, varying from small parts such as sand to food crumbs. Its strong suction removes anything that may be lodged on any type of surfaces – hard or smooth. With a large dustbin of 1.2 liters included, the unit remains ultra-lightweight, weighing just 2.8 pounds. Due to its ultra-lightweight nature and flexible swivel handle, you can effortlessly move it up and down the stairs.
The flexible steering design (180° of freedom horizontally and 90° vertically) allows you to lean or move the vacuum in all direction reaching under all furniture or other hard places that can't usually be cleaned easily. Adding to that, it also includes LED lights on the main brush. This addition helps highlight the dust for a cleaner environment.
The long 22.9-ft cord allows you to clean a whole living room, kitchen, or bedroom without getting concerned about battery life and having to unplug and re-plug.
To prevent the spread of bacteria and allergies, it also has a small vacuum cleaner, and sports an advanced filtration systems with a liver filter, a cylinder filter, a cyclone filter, an HEPA filter and a Sponge filter. The advanced HEPA cyclone filtration can capture up to 99.99% of pet and other dust particles. The filters can be washed minimizing the replacement cycles.
What we liked
Ultra-lightweight & portable
Super powerful suction
Washable Filters
Large dust container
Quiet operation
What we didn't like
This is the vacuum for effective cleaning! This super powerful vacuum cleaner keeps your house neat and tidy. It even comes with a wall-mount bracket for easy storage.
It does guarantee a quiet operation, only producing around 61 decibels to give you a comfortable atmosphere with little to no disruptions at all.

Features to Look for in a Corded Stick Vacuum
Getting the right stick vacuum with a cord is hard and easy in equal measure.
The reason is that the current market is overcrowded with lots of stick vacuum cleaners with cord, which make it overwhelming and confusing to choose the right unit.
Fortunately, we're going to help you choose the perfect corded stick vacuum suitable for your needs.
Below are a few things you need to look at before making any tangible purchase:
The Cost Factor
There are tremendous lots of corded stick vacuums available at a relatively reasonable rate.
These days, it's easy to get a good corded stick vacuum under $100. Such a product is suitable for vacuuming hardwood floors. It's usually lightweight and easy to use.
Additionally, it gives you easy time in terms of safe keeping because it's small and is hooked to a shorter cord.
And if you need help with cleaning larger homes, you can acquire a cheap corded stick vacuum with an extended cord.
On the other hand, you will need a little more expensive corded stick vacuum to get the dirt off your rug.
An expensive stick vacuum with cord comes as standard with stronger suction power. This unit is typically suitable for cleaning carpets and thick rugs.
A corded stick vacuum designed for cleaning pet hair is also quite expensive.
Vacuum manufacturers often pay more attention to detail when designing stick vacuums with cord than regular stick vacuums. It is for this reason that their prices are generally high.
Most of the best corded stick vacuum units designed for hardwood floors come with the brush roll design.
The brush-roll picks up dirt fast and effectively without causing damage to your hardwood floor. Most of the highly-priced corded-stick vacuums include a bigger dirt bin and a longer cord.
Suction Power
Suction power is one of the most essential factors to consider before getting any vacuum cleaner.
According to the market intelligence agency, 8 out of 10 vacuum cleaner buyers put suction power in mind before making any purchase.
Nevertheless, most buyers believe that suction power is directly proportional to motor wattage.
Truth is that the best way to measure suction power is through air wattage and not motor wattage.
You have to understand that suction power is dependent upon the efficiency and design of the vacuum cleaner.
Stick vacuums with attachments have gained immense popularity due to their sustainable power.
Check whether the unit has sufficient suction capabilities prior to making any purchase decision.
Weight
One of the things that makes stick vacuums to stand out is their lightweight nature.
This unique aspect has made these units more popular among homeowners. Any stick vac model going beyond 10 pounds is already pushing the bar.
Avoid buying heavier stick vacuums because they can give you a headache as far as maneuverability is concerned.
You need to opt for a stick vac which you can easily move under and around your furniture with little to no effort.
Heavier models will demand more arm strength to control, and this may drain your energy whenever you're tackling difficult cleaning chores. Choose a lightweight vacuum that jerks but not glides.
HEPA Filters
You don't want to get sick a few moments after using a vacuum cleaner.
And if you're susceptible to colds and allergies, you probably know that the situation can get worse. Keep in mind that vacuum cleaners suck up air containing dirt and dust particles.
It then filters and expels it back into your room.
Consequently, you need to have a best corded stick vacuum with filters that efficiently remove microscopic allergens.
Vacuums with HEPA filters prove useful in eliminating or minimizing tiny microscopic allergens.
It's also important to consider getting a product containing active charcoal filters, for this will absorb pet and household odors.
Power Cord Length
The length of the power cord is important. People often tend to overlook this feature when shopping for a stick vacuum with cord.
At the very least, buy a stick vacuum with a 15-feet long power cord to avoid switching electrical outlets all the time.
Floor Head Width
The width of the nozzle in the floor head varies widely from one vacuum to the other.
Stick vacuums have a slimmer floor head than upright vacuums. For stick vacuum units, the width of the nozzle is at least 8 inches. Units with a smaller width easily fit in between furniture.
A smaller width is a desirable feature for a cozy home rather than a minimalist one.
A wider width, on the other hand, decreases the number of passes needed to get the whole floor cleaned. Either way, choose a stick vacuum with a pivoting floor head to make your vacuuming easier.
Size and Handling
You must consider how the vacuum would feel when you put it to use.
There's no rule of thumb regarding how much a vacuum should weigh so long as it's lightweight and comfortable to lift and transport.
The same thing applies to the height of the vacuum—the proper height is dependent on your height.
Do not forget to consider the handle as well. It's wise to buy a stick vacuum that is looped.
Also, make sure it's either covered in padding or fashioned in such a way that it cradles your palm.
Convertibility and Attachments
You probably are buying a stick vacuum for use in cleaning the floors.
However, you might want to tackle dirt and debris on your staircases occasionally.
So you want a vacuum that has what it takes to accomplish these tasks, and there's no other way around it than opting for a unit with a hose and attachments, upholstery brush or crevice tool.
Go for a stick vacuum with the ability to convert to a handheld vacuum. Such a vacuum unit is handy in tackling above-floor cleaning chores a notch higher.
Dust Bag or Dirt Cup
Capacity is vital when it comes to choosing a corded stick vacuum. Dust bags and dirt cups do not make a vacuum heavy, so select the unit with the largest dirt-collection container.
The units that include a large-capacity container will save you time as they reduce the number of walk-overs to the emptying trash.
And if you prefer a bag-less stick vacuum, choose the one whose dirt cup empties from the bottom to keep the air cleaner.
FAQs about Corded Stick Vacuums
Why is the suction power of my corded stick vacuum weak?
Several things could lead to the weak suction in a stick vacuum. It's important to check the vacuum hose since small debris, dust or hair might block it.
These objects accumulate over time and eventually weaken the suction power. Also, check the filter and vacuum head as collected dust may block them.
Why is a HEPA Filter necessary?
If you suffer from a respiratory condition such as asthma, allergy, and COPD, then you need to get the best corded stick vacuum with a HEPA filter. HEPA stands for High-Efficiency Particulate Filter.
A HEPA filtered vacuum cleaner removes ultra-fine particles such as dirt, dust, hair and pollen grains which trigger severe respiratory reactions.
Is a powerful motor directly proportional to more suction power?
Not necessarily. A vacuum cleaner's amperage measures electrical current but not suction power or performance.
The effectiveness of a vacuum cleaner depends on such things as the filtration, overall design, and the air flow.
Vacuum cleaners with high CFM (cubic feet air per minute) ratings have enhanced suction power.
Final Verdict
Many homeowners prefer corded stick vacuums to cordless vacuums because they take away the inconveniences that come with using a battery-powered and heavy-weight vacuum cleaner.
Stick vacuums with a cord also have more suction power than cordless vacuum cleaners.
The best corded stick vacuums we've recommended in our review are the best, and you can never go wrong with them.
They are stronger so that you can enjoy powerful airflow at greater airspeed than those units with cordless designs.
As far as our recommendations go, we wish to endorse the SharkNinja Rocket DuoClean (HV382).
We consider it our top pick because it is the finest corded stick vacuum comprising an on/off brush-roll option, good suction power, and handheld vacuum conversion.
It is the most ideal vacuum that comes with sufficient run time, proper nozzle size, long cord, and easy-to-empty container.
Related Resources