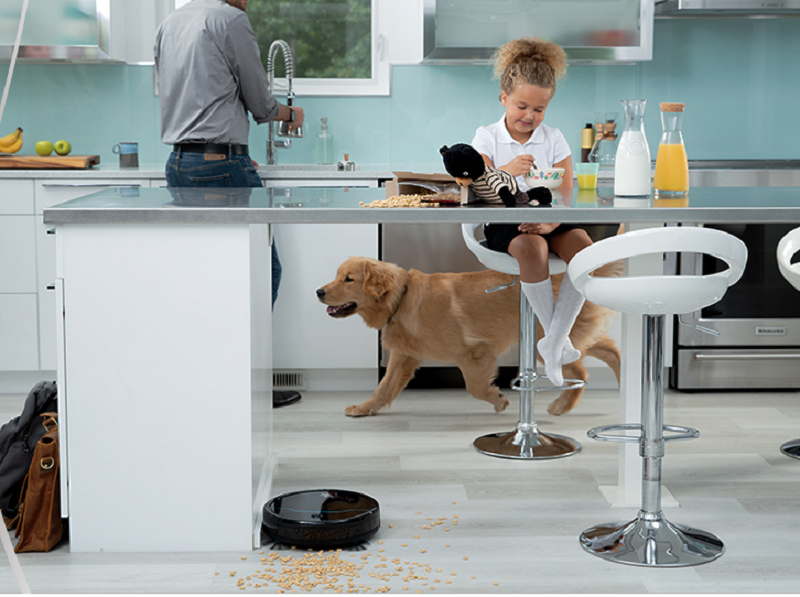 Robotic vacuums are brilliant! All you need to do is turn them on and let them do their thing. Robotic vacuums, also referred to as robovacs are on the face of it a relatively new invention, however, they are not.
The first robotic vacuum cleaner launched in 1996. It was manufactured by a Swedish company that called the robotic vacuum cleaner 'Trilobite'.
Trilobite became popular after its debut on the tv show 'Tomorrow's World'. Clients using this product complained about its clumsiness and how it would constantly knock into objects and furniture getting damage in the process.
Read Related Reading: 12 Best Vacuum Cleaners for Apartment in 2020
Fast forward to today and most homeware and cleaning appliances stores have their very own robotic vacuum in their line. Thumbs up for the endless choice, but thumbs down for how confusing picking the right vacuum can be when it comes to it.
Purchasing high ticket items is a tricky job anyway and having a lot of choices just makes it harder for consumers, especially when every item is advertised as being 'the best'. Robotic vacuum cleaners vary in price depending on their features and manufacturer.
Comparison Table
PRODUCT
FEATURES
LATEST PRICE
1. Bissell EV675 Robot Vacuum 2503


Useful docking station
Can be set to work alone
Remote control operated

Check Price
2. Bissell CleanView Connect Vacuum


Picks up animal hair
Has a great app
Easy to operate

Check Price
Let's take a look at the pros and cons of using a robotic vacuum cleaner before we go any further.
See Also: The Bissell Symphony Pet Steam Mop 1543A Review
Benefits of Using a Robotic Vacuum Cleaner
Robotic vacuum cleaners are great, they are convenient and time-savers, but that isn't even the half of it! Robotic vacuum cleaners are popular for many reasons, here are some of them:
Convenient
Being able to just whip out a robotic vacuum that will tidy up after you is super convenient. You don't need to think about if you have enough time to clean up the sand that you just brought in with you after a day at the beach, just ten on the vacuum and let it do its thing.
See Also: Sanitaire Vacuums Reviews for 2020
Time-Saver
Who doesn't want to flick a switch and have all of their cleaner done for them, hey? Although robotic vacuum cleaners cannot clean your whole house without you giving them a helping hand, they do a great job of taking the edge off the task.
Busy people love the robotic vacuum. It allows people with busy lives to still have some control over their household cleaning without spending a great deal of time on it. The robotic vacuum cleaner can be switched on while you complete another chore, killing two birds with one stone!
Housekeeping Maintenance
There is nothing worse than cleaning when the mess has gotten out of hand. Dirt and grime will build up very quickly and by the time you see it, the house needs a serious deep clean.
Most households dedicate a day in the week for housekeeping duties for a few hours in the day to clean and tidy up. Robotic vacuum cleaners take the edge off the weekly chores and can even shorten the time it takes to complete them by as much as half an hour.
Easy to Store
Robotic vacuum cleaners are compact little things. They can be stored away pretty much anywhere in the house, on a shelf, in a drawer in the cupboard… wherever there is a bit of spare room.
Traditional vacuum cleaners take up far more space and can be awkward to pack away. They either need to be taken apart or be stored away in a utility room (which not everyone has the luxury of having).
Great Suction Power
Over the years, robotic vacuum cleaners have been redeveloped and upgraded to boost their suction power. Where once they struggled to pick up pieces of ripped up paper, now they can lift heavy debris and embedded grime.
It can be incredibly tricky to lift dirt from even low pile carpets yet most robotic vacuum cleaners have the required design technologies to do just that. They can even remove embedded dirt that larger vacuum cleaners struggle to lift.
Surface Versatility
Some robovacs can transition from hard floors to carpet and back again without having their settings changed. Not all vacuum cleaners can be used on hard and carpet floors, so having a vacuum that does so effortlessly is a real help.
The Downside of Using a Robotic Vacuum Cleaner
Every great product has a downside or two event robotic vacuum cleaners, for example, it lacks efficiency. So let's see what else isn't so good about them:
Noisy
Believe it or not, robot vacuum cleaners are super noisy. So much so, that you can't even have a conversation in the same room it is working. You can get vacuums that are quieter than others but overall, they are all pretty loud.
Battery Life
Cordless vacuum cleaners are notorious for having a terrible battery life and robotic vacuum cleaners are no different. They take a long time to charge, sometimes up to 6 hours and have less than an hour's worth of battery.
Because you have no control over where the vacuum cleans, you could find yourself left with a half vacuumed room when the battery runs out.
Small Bin Capacity
You will find yourself constantly emptying out the vacuum's bin as they typically never come with a large bin capacity. If you don't empty the vacuum cleaner in time and it continues running, it will not pick up any dust and just keep wasting its battery.
Poor Pick-Up
Robotic vacuum cleaners don't usually go over a spot multiple times if it is struggling to pick up stubborn dirt. They work their way around a room at their own pace.
Now that we know a thing or two about robotic vacuum cleaners, let's talk about one of the leading household cleaning appliances manufacturers. Bissell has been a well-known brand that has been around for many years in the vacuum and cleaning appliances industry.
Bissell is a family-owned company whose story started almost 150 years ago. The company has been managed by 5 generations of family members and counting. Their homey feeling and deep-rooted company history add to their appeal.
We have reviewed Bissell's top robotic vacuum cleaners so that you can decide which of them is most suitable for you. Their features, pros, and cons have been picked apart to make their ease of use and efficiency clearer.
A Deep Dive into Bissell EV675 Robot Vacuum 2503
The Bissell EV675 is a multi-surface robot vacuum cleaner that cleans up dirt and dust from hard and carpet floors. It has a dual-edge brushroll that tackles pet hair head-on.

Who's It For?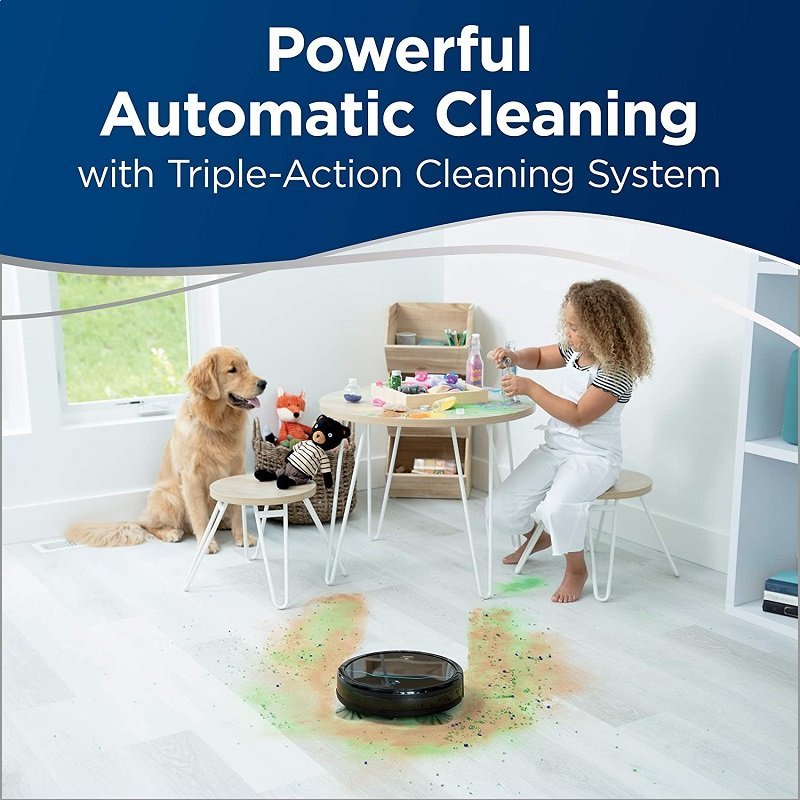 It's designed to be an affordable and easy-to-use vacuum cleaner that doesn't take a tech wiz to operate. Bissell wants to make simple robot vacuum cleaners that work on all floor types, especially high-pile carpets.
This is the perfect vacuum cleaner for anyone that isn't particularly a fan of gadgets and high tech items. It has a remote control which is perfect for guiding the vacuum without having to get off the couch.
People with pets at home should consider investing in this vacuum cleaner. It is a great solution for maintaining a clean and tidy home in between weekly cleans. You can just turn it on and let it run on its own.
Anyone with a small apartment would also benefit from using this vacuum cleaner. It is lightweight (at only 4 pounds) and has a relatively high bin capacity for such a small robotic vacuum cleaner.
You can pop the vacuum in the cupboard, in a box or on a shelf out of the way as soon as it has finished cleaning. Sounds convenient, doesn't it?
What We Like About Bissell EV675 Robotic Vacuum 2503
The robotic vacuum finds its way back to its docking station when its battery is low and about to run out. We loved this convenient feature because it means that you don't need to rely on yourself to remember to charge it.
It is simple to operate and requires no effort at all. Elderly folk can use the vacuum to clean their homes without having to bend over for the task.
This vacuum picks up dog and cat hairs without getting clogged up. This is a rarity for any vacuum let alone a small robot vacuum.
You can set the vacuum to clean at your chosen time, even if you are not home to operate it. We love that about this Bissell robotic vacuum cleaner as it just adds to its efficiency and ease of use.
What We Don't Like About Bissell EV675 Robotic Vacuum 2503
The robot vacuum has a tendency to wander aimlessly around large places and repeat cleaning the same (already clean) area for no particular reason. This is a common problem with many robot vacuum cleaners.
If you have a pet that sheds a lot of hair, or multiple cats and dogs, the vacuum will not pick up all the hair. To maintain a pet hair-free home would require using the robot vacuum to clean twice every day… or more.
The brushes need constant maintenance in order for the vacuum to perform its best. If the brushes are not clean, the vacuum simply will not pick up even the slightest piece of debris.
Bissell's robotic vacuum cleaner wanders aimlessly so that it can bump into furniture and cause damage to table legs and scuff couches. This isn't something that should happen as robotic vacuum cleaners include special sensors to identify whenever there is an object obstructing its path.
PROS
Easy to use
Useful docking station
Can be set to work alone
Remote control operated
Cordless
CONS
It is clumsy
Not suitable for pet hair
Hits furniture causing damage
What's Included?
The vacuum comes with remote control and charging dock. The robot vacuum should automatically go back to the charging dock as soon as it is getting low on battery and will recharge itself.
In order for the vacuum cleaner to work, it relies on lithium-ion batteries. The vacuum already comes with the appropriate batteries when purchased.
Overview Of Features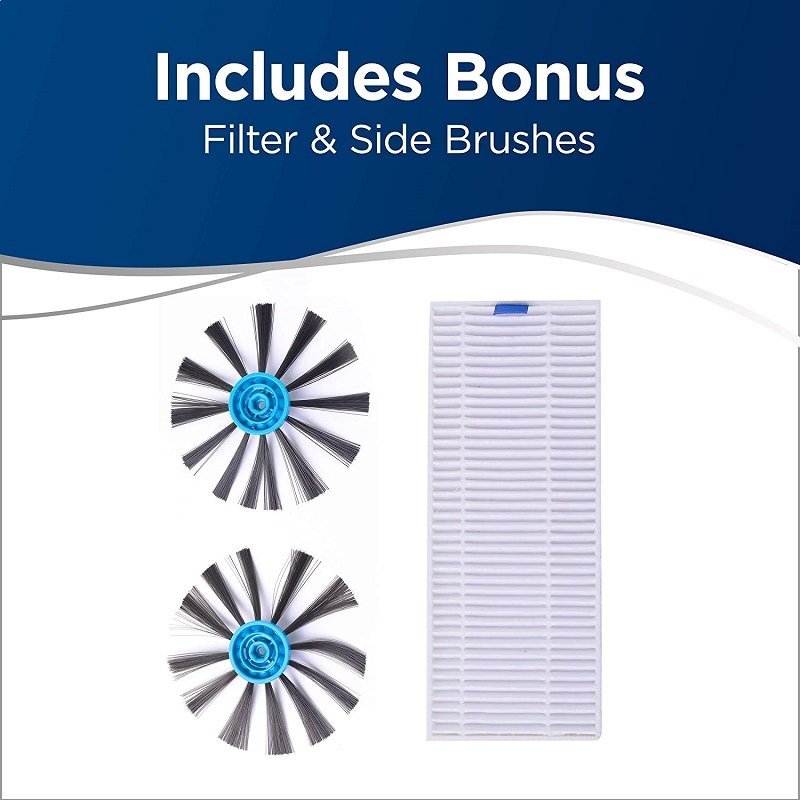 The vacuum weighs over 6 pounds, which is heavier than some corded stick vacuums. Although its design is compact, it is heavy and chunky.
It navigates under furniture and cleans all those hard to reach places. The vacuum's design is robust and durable for its longevity.
The Bissell robotic vacuum cleaner delivers up to 100 minutes of cleaning on a full charge. You can set a cleaning schedule with the vacuum to ensure that the house is nice and dust-free by the time you get home from work.
A combination of a rotating brushroll, dual-edge brush, and powerful suction makes it a good vacuum for both hard and carpet floors. Let's not forget about its ultra-quiet feature that won't disturb your train of thought as it vacuums around you.

Review Summary
This is one of the most simple robotic vacuum cleaners on the market. It is designed to do its job all while staying fuss-free. The only downfalls are its bulkier weight (being over 6 lbs) and lack of coordination (bumping and damaging furniture).
Nevertheless, we still think this vacuum cleaner is worth it overall and should be seriously considered.
A Deep Dive into Bissell CleanView Connect Vacuum
The Bissell CleanView Connect robotic vacuum cleaner is a vacuum cleaner with a twist. You can connect it to the Bissell CleanView Connect app and send it instructions all with a few clicks from your mobile phone.
Don't worry if you remembered that your inlaws were coming over for dinner and the house is a mess while you are in your work meeting. Just activate the robot vacuum from the app on your phone and the vacuum does the rest.

Who's It For?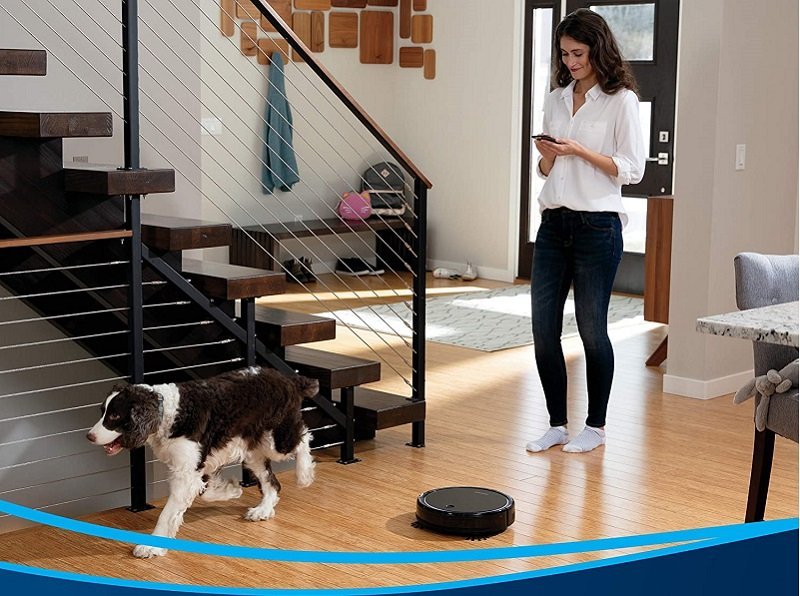 In comparison to the Bissell EV675, this vacuum cleaner is a lot more high tech. It is for people that like to have all of their gadgets connected to their phones for easy access no matter where they are, near or far.
The CleanView vacuum self adjusts its vacuum power as needed, so when it moves from carpet floor to hard floor, it adjusts accordingly. Anyone with multiple floor types in their home would benefit from using a vacuum cleaner such as this.
Its design is simple, subtle, sleek, and unobtrusive, particularly attractive features for people who live in small, minimalist apartments. It can easily move around under furniture while pulling up stubborn dirt and grime from all the hard to reach corners of the house.
What We Like About Bissell CleanView Connect Vacuum
The first few times the vacuum cleaner operates it moves slowly, mapping out the layout of your home. After the initial 'warm-up' runs, the vacuum cleans at a reasonable pace without knocking against furniture.
We loved how accessible the dust bin is and how easy it is to empty. If you empty the bin before it is overfull, there will be no dust spillages that you need to tidy up after. Yay!
The app is surprisingly easy to navigate. Once you have paired the app to the vacuum, sending instructions to the vacuum is simple and gets a quick reaction.
It finds its own way back to the docking station which is super convenient. Most of the time, robot vacuums are on while the homeowner is out of the house or busy doing other things. The fact that the CleanView vacuum charges itself up is brilliant.
The vacuum seems to know when there is a 'dangerous' obstacle ahead. For example, if you have a step in the room, the vacuum will not roll over the step. It manages to snake around obstacles quite easily.
Your furniture will be safe when the CleanView vacuum is in operation because of its relatively accurate sensors. In fact, you probably knock and scuff your furniture more with a handheld vacuum in comparison to a robot vacuum… and the robot doesn't even have eyes!
What We Don't Like About Bissell CleanView Connect Vacuum
This might go without saying, but it does not replace your regular vacuum cleaner. It doesn't even come close to providing you with the level of cleanliness that a stick vacuum reliably offers.
It takes a very long time to vacuum the floor with a robotic vacuum. True, this product runs relatively quickly, but because of its small size, it takes a long time to get from one end of the room to the other.
We aren't sure if the following is a positive or a negative point, but it sure is a frustrating one nonetheless. The dustbin needs emptying very often. That is all well and good if you are at home to do it, but if not, your robot vacuum will be roaming around the house not vacuuming as soon as the bin is full.
Now onto the charging dock, the surrounding floor space needs to be empty for at least 40 inches either side of the dock. That is a huge amount of space, so small apartments would struggle to accommodate such a vast space for this robot vacuum.
It is HEAVY! For such a little vacuum, it weighs more than 10 pounds. This greatly affects where you can store it as it is far too heavy to put up on a shelf. Keeping it in the docking station might not be a good idea either as it will get in your way there permanently.
PROS
Picks up animal hair
Has a great app
Easy to operate
Great obstacle sensors
CONS
Slow
The bin needs regular emptying
What's Included?
The Bissell app is free to download. Bissell CleanView Connect vacuum cleaner owners do not have to pay more for using the app.
The vacuum is cordless and therefore, doesn't require batteries. It only needs to connect to the included charging dock now and then to be powered up.
Overview Of Features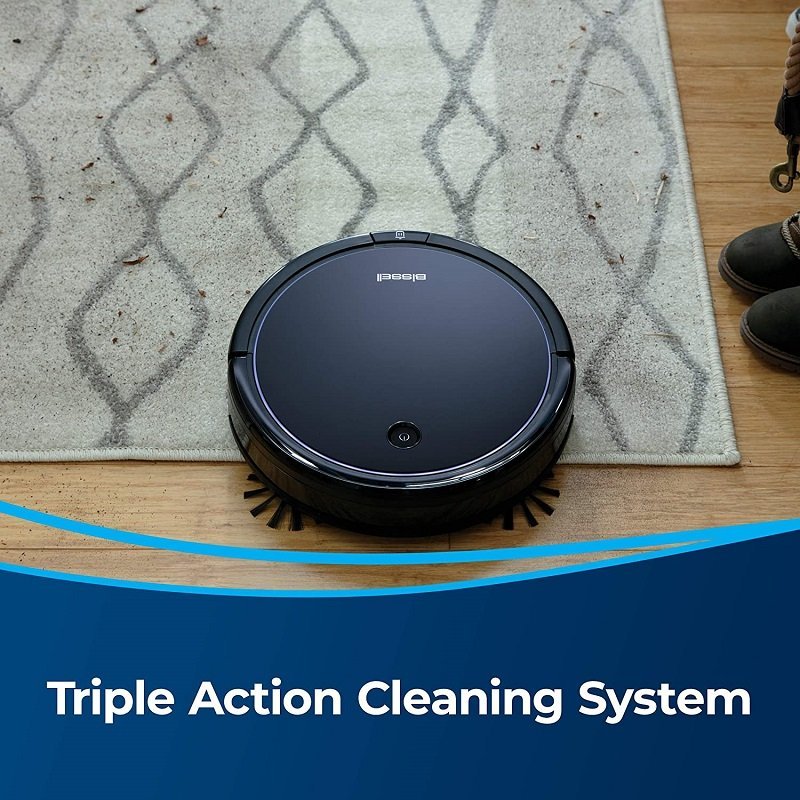 The vacuum has a mobile app and can be connected to Wi-Fi as we mentioned in the previous sections. This is a great feature for people that want control over their vacuum when they are not at home.
The triple-action cleaning system cleans with a rotating brush roll, dual-edge brushes, and powerful suction allows it to pick up heavy debris. This feature sets it apart from other leading robotic vacuum cleaners because it has higher suction abilities.
The LED light ring communicates with you as it operates keeping you in control of the vacuum at all times.
Design-wise, the vacuum has a low-profile design allowing it to easily fit underneath most furniture.
We must mention again that this vacuum is on the heavier side at a whopping 10 pounds 53 ounces.

Review Summary
This is a high tech vacuum cleaner that is versatile and perfect for performing maintenance vacuum cleaning. We like how much control you have over its cleaning schedule and can operate the vacuum from the app on your phone.
Summary
Both vacuums do essentially the same job, but one is more simplified than the other. Regardless of which of the two Bissell vacuum cleaners you go for, they will do you justice and maintain your home beautifully.
Households with pets or children get dirtier and dirtier far quicker than homes that are less lived in. if you are finding yourself reaching for the large vacuum cleaner twice a week, you should give yourself a break and purchase a robotic vacuum for sure.
We recommend using it once every day for maintenance purposes. That could be in the morning after everyone has gone to work or school to freshen the place up a bit, or in the evening to make your home feel cozy after a long day at the office.
You will find that your weekly cleaning session is much easier and takes far less time than before you purchased the vacuum. Let us know what you think. We would love to hear about your experience with robotic vacuum cleaners and how they helped you!