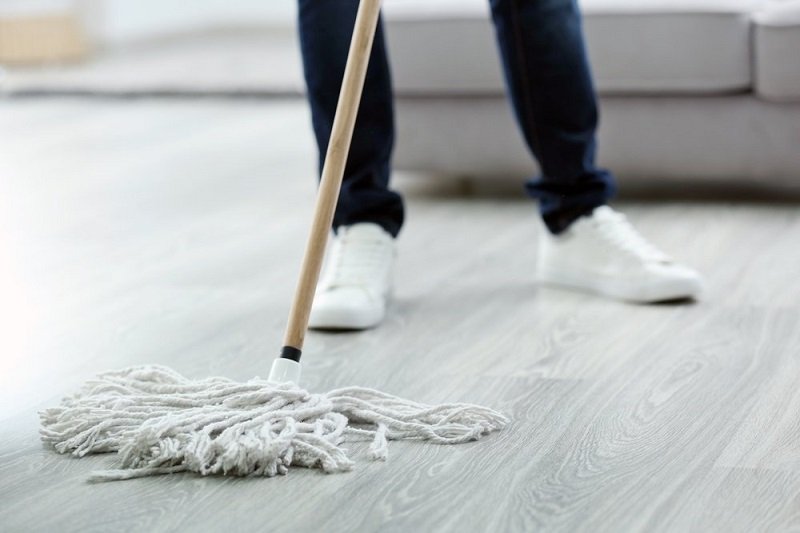 Basements are often underrated areas of the house. They collect dust easily, are hard to clean, and almost always smell damp and slightly stale. It has nothing to do with how regularly you clean your basement either. The lack of air circulation and the vast amount of concrete used in the construction makes basements feel cold and unwelcoming.
Check Out Also Our review for: How to Clean (Interior, Polished, Painted etc) Concrete Floors
Obviously, having a basement is a massive bonus in any household. You can turn it into a wine cellar, gaming room, laundry room, or man cave… the list goes on. In order to make the most of your basement having the right cleaning method is key. We are talking about the kind of cleaning method that cleans the floors so well, you could do it less often than you are now. Result!
See Also: How to Remove Tea Stains From Your Carpet
Basement floors are usually made of unfinished concrete. That means that the concrete floor isn't smooth and attracts even more dirt and stains than other floorings such as tiles and parquet. Please note that if you have carpet, tiles, or parquet floor in your basement, you should clean them exactly as you would if it was a floor located in any other area of your house.
See Also: How to Remove Chocolate From Your Carpet
Most of the best cleaning products for concrete floors can be found in the local supermarket. You might even have them laying about in your home. Concrete floors can be cleaned using chemicals or natural products. Each cleaning method has different benefits, so choose appropriate products for the challenge.
In this article, you will learn how to tackle basement floor issues like rust and stains, as well as discover cleaning tips and tricks that will help you get the job done well. One of the most important things to remember when cleaning an unfinished concrete floor is that the cleaning products you use will make all the difference, but more on that later.
Check Also: How to Clean Car Floor Mats
Why are Basement Floors So Hard to Clean?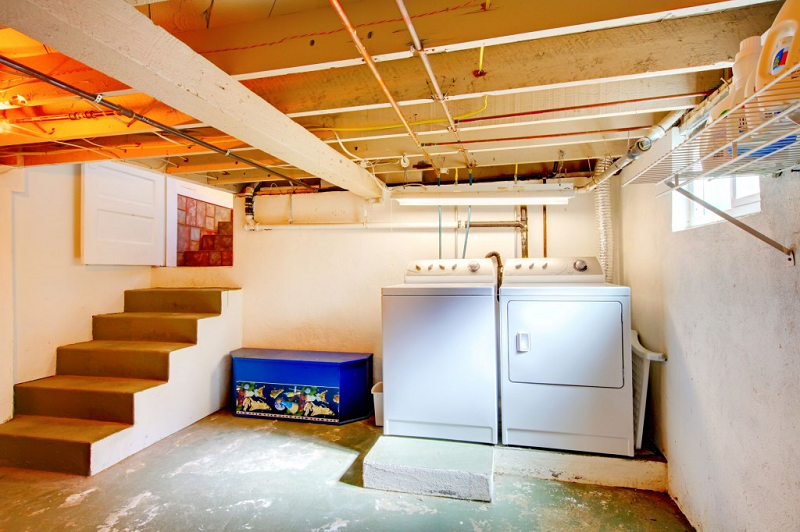 Concrete basement floors attract mold, mildew, rust, and oil. These are hard enough to treat on other floor types, let alone on uneven concrete.
The floor isn't smooth, it has lots of dips, grooves, and rough patches that 'add to its character.' When paint or grease make their way between the grainy patches of concrete, it is almost impossible to remove.
Basements are very wet with still air making them prone to mildew and mold. Investing in a good dehumidifier will improve the smell and keep the basement feeling fresher for longer, regardless of how clean it is.
As you will see further on in the article, each cleaning solution tackles a different problem. So what happens when you have more than one cleaning problem to solve? You mix and match.
For example, if you have a foul-smelling basement and rust on the floor, you should resolve the bad smell issue before proceeding to remove the rust from the floor. Always fix the toughest problem and then continue onto the next cleaning issue.
Cleaning Preparation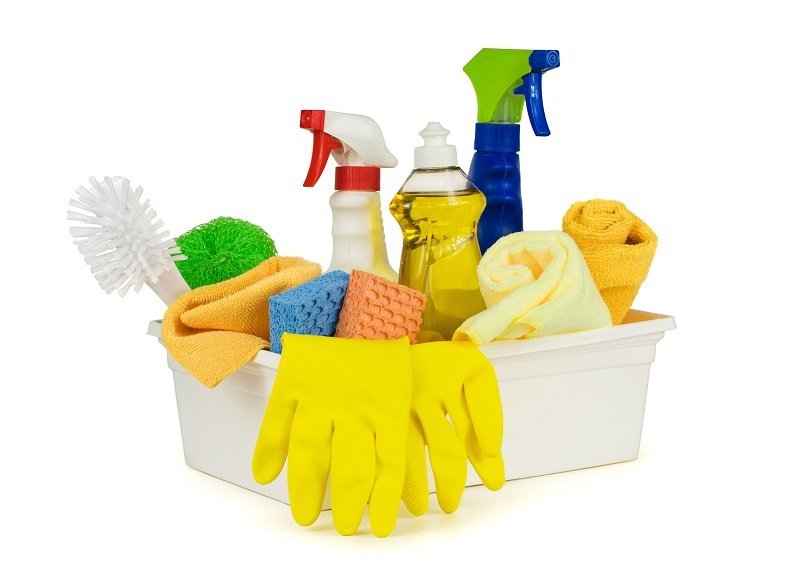 Before you start scrubbing and going to town on your basement floor, there are a few pre-cleaning preparation steps to follow.
Have a General Tidy-Up
If the basement is messy, you aren't going to be able to clean the floor properly for a number of reasons. Firstly, cleaning in a messy and unorganized area will get you out of the cleaning zone. Secondly, it will take longer to tidy up, and thirdly, you won't be able to see the full extent of the mess and grime.
Sweep the Floor
Once the place is tidy(ish), pick up large pieces of dirt and debris and begin to sweep the floor.
Figure Out Where You Are Going to Start
This might sound really obvious, but figuring out what end of the room you are going to start will make the job a lot easier. Move obstacles out of the way so that your cleaning rhythm feels natural and effortless.
Top Tip: Put a speaker in the basement and play your favorite playlist. Music helps us stay focused on the task, and makes completing chores almost enjoyable! Schedule yourself a break if you are cleaning for longer than an hour so that you don't tire yourself out.
Cleaning Methods
We want to work smart, not hard, and in order to do that the way you clean must be logical. We recommend cleaning from one end of the room to the other, cleaning the floor section by section.
Rust Removal
Would you be surprised to learn that there are no cleaning solutions involved in removing rust from concrete floors? Just follow these simple steps to get your concrete floor rust-free:
You will need a piece of flagstone and some dry cement.
Lightly disperse the dry cement over the rusty areas.
Rub the rust with the flagstone until the rust is gone.
Does Mopping the Floor Help?
Mopping the basement floor with the right cleaning solution for the job is going to do wonders for the dirt or stain. You should use a mop that can be rung out for the best results.
Cleaning With Trisodium Phosphate
Trisodium phosphate is heavy-duty stuff. It will remove glue and other stubborn material from basement floors.
If you haven't already got a wire bristle broom, we recommend investing in one. Here is how to clean using trisodium phosphate:
Gather Equipment
Mix 1 gallon of hot water with 3 ounces trisodium phosphate in a mucket ready to use. You will need another bucket full of water too and a wire brush.
Prepare the Area
Spill some water on the floor (without the trisodium phosphate) and scrub the floor. This will loosen the grime, reading the floor for treatment.
Scrub
Pour the water containing the trisodium phosphate onto the affected areas and scrub the area with the wire brush. You may need to dry the floor with a towel before moving on to the next step. If you have a floor drain in your basement, push the water down the drain so that the floor is damp, not wet.
Rinse
Rinse the floor with clean water. You can do this by pouring clean water onto the floor and lightly mopping the floor with a clean mop.
Cleaning With White Vinegar
This is a wonderful, natural way to clean your basement floor without using chemicals. Be warned that your basement will probably smell peculiar for the rest of the day.
Vinegar is a disinfectant as well as a brilliant cleaning product, so it will clean and kill bacteria living on your basement floor. We highly recommend this method if you have a milder or other fungal issues in your basement.
Fill a bucket up with warm water and add 1 ½ cup white vinegar.
Using a mop (preferably one you can wring out) to clean the floor.
If the floor is very dirty, you can use a wire brush to loosen the mess.
Rinse the floor with clean water and use the mop to dry the floor.
If the floor isn't drying well due to poor ventilation, place a fan in the basement and have it running for a while or until the floor dries.
Bleach Treatment
Treating your concrete basement floor with bleach powder is a great way of getting rid of bad smells. All you need for this is some bleach powder and a vacuum.
Generously sprinkle bleach powder onto the basement floor and leave it for at least 24 hours. After a day or so, vacuum the bleach powder off the floor and proceed to clean the floor using one of the methods in this article.
Check It Out: Will My Smartwatch Vibrate So I Can Hear Incoming Calls While Vacuuming?
The bleach will not cause any damage to your concrete basement floor, however, if the floor in your basement is not concrete, do not use this method. Not all flooring reacts well with bleach. For delicate floors, use our baking soda cleaning method.
Cleaning With Baking Soda
Baking soda is notorious for being a good toothpaste, disinfectant, and cleaning product. You can use baking soda to clean sealed and untreated concrete basement flooring without worrying about causing stains or further damage.
Mix a gallon of water with ½ cup baking soda and ¼ cup dishwashing soap.
Pour the water mixture onto the dirty floor and scrub with a wire brush.
Rinse the floor with clean water.
Dry the floor with clean towels or with a dry mop.
Power Washing the Floor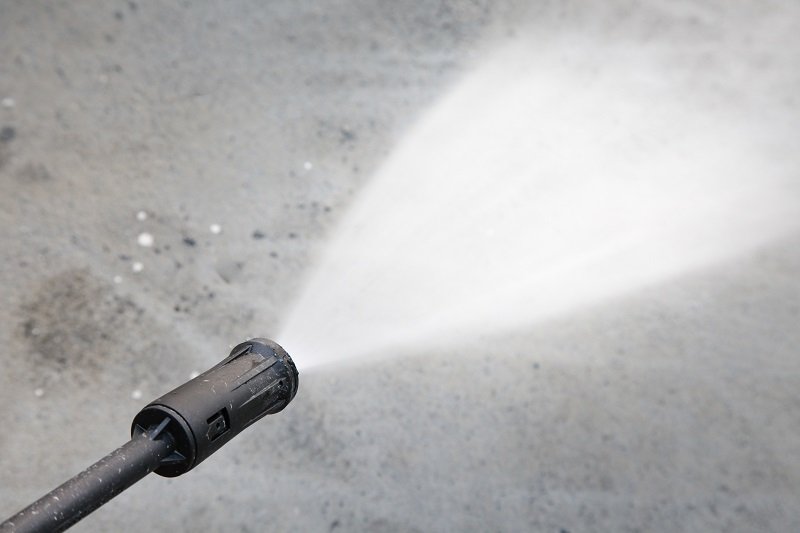 Power washers are great cleaning tools. They lift up dirt and grime without having to scrub the area.
Not everyone can use a power washer to clean their basement floor. For one, you must have a drain in your basement to be able to clean using a power washer as there is a lot of water involved. Basements that are used as lounging areas will need to have all of the furniture moved to another room so that they don't get wet.
Should I Clean My Concrete Floor Before Applying a Sealant?
The short answer, absolutely! Before applying a concrete sealer or any type of flooring on the concrete, you should thoroughly clean it first.
Concrete sealers make cleaning your basement floor a lot easier. Oil spills and dust take just a fraction of the time to clean when the floor is treated appropriately plus bad smells and damp odors are easier to eliminate on treated floors.
A new concrete floor shouldn't be treated immediately. Let the concrete cure first, this takes about a month. Using a dehumidifier or fans is a necessity, if the floor is damp, the sealer will not take well and you will probably have to re-do it.
We have put together a step by step concrete sealing guide to help you do the job professionally without having to pay someone to do it for you.
Part 1: Preparation
Sweep or vacuum the concrete in preparation for the sealant. If the concrete is especially uneven, do both. Sweep the large debris off the surface and then vacuum the rest.
Clean stains, rust, paint, and other bits of grime and oil spills off the floor. If necessary, scrape any dried-up glue and other dried spillages from the surface. Each spillage has a different cleaning solution that works best to remove it, so use the appropriate method for each one.
Once all of the rust and stains are gone, mop the floor with floor cleaner or baking soda. Once the floor has been mopped, dry it as thoroughly as you can, either by using a vacuum to pull up what is left of the water, or dry the floor with towels.
Wait 24-48 hours before going on to the next step.
You must fill in any cracks in the floor before applying a sealant. This can be done with concrete repair.
Now it is time for the application. Each sealer comes with its own specific instructions. In general, the steps will be very similar regardless of what sealer you choose. Pay special attention to the drying time and mixing instructions.
Part 2: Application
Apply about 2 or 3 thin and even coats of sealant on the concrete floor surface. Wait 5 hours between each coat application. This is to ensure the sealant dries completely between each coat.
Once all of the coats have been applied, make sure you don't step on the sealant until it is completely dry.
Top Tips:
Sealants applied on the concrete floor in the basement will take twice as long to dry than sealants in well-ventilated rooms. We thoroughly recommend putting a dehumidifier or a fan in the basement to help with air ventilation.
Have you ever wondered how people get consistent and smooth coverage with their sealant? The trick is to paint each coat at a right angle to the previous application.
Now that you have learned how to eliminate the most common concrete stains and spillages you can tackle any spillage! Enjoy your basement space and make the most of every area in your house.